This post was originally published here on June 11, 2011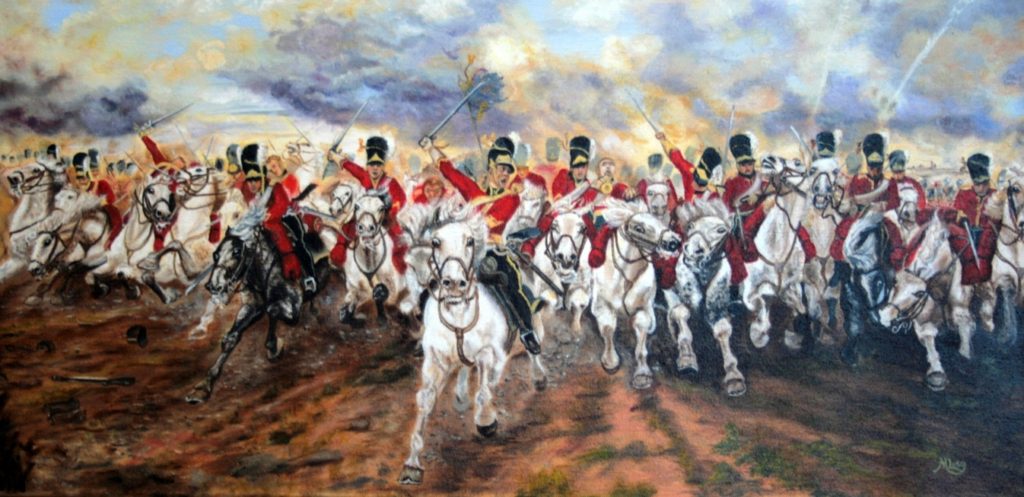 This April, Number One London Tours will be hosting the
1815: London to Waterloo Tour
, offering an unprecedented opportunity to experience life during these times, from Fashionable London to the Battlefield at Waterloo, we will be visiting sites related to both worlds and to both countries, meeting many of the people involved in the Battle and it's aftermath on both sides of the Channel. One of these people will be the Honourable Katherine Arden, who has left this first hand and heartfelt record of life in Brussels before and after the Battle. She attended the Duchess of Richmond's Ball and was on the ground, as it were, in the days following the Battle.
The following letter was written by the Hon. Katherine Arden, daughter of the first Lord Alvanley (Richard, 1744-1804) and sister of William Arden, 2nd Lord Alvanley (1789-1849) , the famous dandy who squandered his fortune and died unmarried; the title went to their younger brother. With her mother and sister, she was resident in Brussels at the time of the great battle, and took an active part in nursing the wounded. The letter is addressed to her aunt, Miss Bootle Wilbraham, afterwards, Mrs. Barnes. It is franked from Windsor to Ormskirk in Lancashire by Miss Arden's uncle, Mr. E. Bootle Wilbraham (afterwards Lord Skelmersdale), July 17, 1815. The letter was later published in the Cornhill Magazine in 1891.
Brussels, Sunday 9th (July)
My Dearest Aunt, I can assure you most truly that I did not require reminding, to fulfill the promise I made you of writing, and every day since our return from Antwerp I have settled for the purpose, but what with visiting the sick, and making bandages and lint, I can assure you my time has been pretty well occupied. As my patients are, thank goodness, most of them now convalescent, I think the best way I can reward my dear Aunt's patience, is by giving her a long account of our hopes, fears, and feelings from the time the troops were ordered to march down to the present moment. (If you are tired with my long account, remember you expressed a wish in Mama's letter to hear all our proceedings.)
On Thursday the 15th of June, we went to the great ball that the Duchess of Richmond gave, and which we expected to see from Generals down to Ensigns, all the military men, who with their regiments had been for some time quartered from 18 to 30 miles from this town, and consequently so much nearer the frontiers; nor were we disappointed, with the exception of 3 generals, every officer high in the army was to be there seen.

Though for nearly ten weeks we had been daily expecting the arrival of the French troops on the Frontiers, and had rather been wondering at their delay, yet when on our arrival at the ball, we were told that the troops had ordered to march at 3 in the morning, and that every officer must join his regiment by that time, as the French were advancing, you cannot possibly picture to yourself the dismay and consternation that appeared in every face.
Those who had brothers and sons to be engaged, openly gave way to their grief, as the last parting of many took place at this most terrible ball; others (and thank Heaven ranked amongst that number, for in the midst of my greatest fears, I still felt thankfulness, was my prominent feeling that my beloved Dick (her brother) was not here), who had no near relation, yet felt that amongst the many many friends we all had there, it was impossible that all should escape, and that the next time we might hear of them, they might be numbered with the dead; in fact, my dear Aunt, I cannot describe to you my mingled feelings, you will, however, I am sure, understand them, and I feel quite inadequate to express them.
We staid at the ball as short a time as we could but long enough to see express after express arrive to the Duke of Wellington, to hear of Aides de Camp arriving breathless with news, and to see, what was much more extraordiniary than all, the Duke's equanimity a little discomposed. We took a mournful farewell of some of our best friends, and returned home to anything but repose.
The morning (Friday June 16) dawned most lovelily, and before seven o'clock we had seen 12,000 Brunswickers, Scotch, and English pass before our windows, of whom one third before night were mingled with the dust. Mama took a farewell of the Duke as he passed by, but Fanny and myself, at last wearied out, had before he went, retired to bed. The first person that we saw in the morning brought us the news, that the advanced guard of the French had in the night come on as far as Genappe, 18 miles off, and had had several skirmishes with the Prussians.
This intelligence, as you may suppose, did not tend to compose us, but still everything went on in quiet calmness, when (Gracious heavens, never never shall I forget it), at three o'clock a loud cannonading commenced, which upon the ramparts was heard nearly as plain as we do the Tower guns in London; it went on without intermission till 8 o'clock, when it was thought to appear more distant, and therefore hopes were entertained that the French had retreated; nothing certain was known, but it was reported that the Prussians had been principally attacked, and were rather giving way when the Highlanders and the regiments who had marched from here in the morning joined them, and compleately repulsed the French.
So far the news was good, but still the English had fought, and what our loss was, nobody knew; however, we bore up pretty well till above twelve o'clock, a gentleman (Mr. Leigh, of Lyme in Cheshire) came from off the field of battle, where he had been looking on, with the intelligence that there had been a dreadful battle, the Duke of Brunswick was killed, and that the Brigade of 1st Guards and the Highlanders were literally cut to pieces. I will not attempt to say what we felt, for it would be quite vain.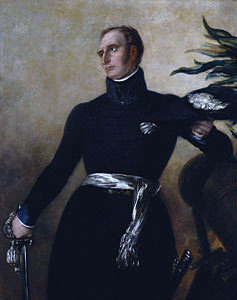 I must only tell you that that Regiment of Guards contained all our greatest friends, independent of our having to regret them as Englishmen. The next morning by six o'clock, Saturday 17th numbers of Belgians and others of our brave Allies came flying into the town, with the report that the French were at their heels, but this intelligence occasioned but a temporary fright, as a bulletin was published officially saying that we had gained a great victory, and the French were retreating (neither of which was true). About ten o'clock the real horrors of war began to appear, and though we were spared hearing cannonading, yet the sights that we saw were infinitely more frightful than anything we had heard the day before. I mean the sight of wounded.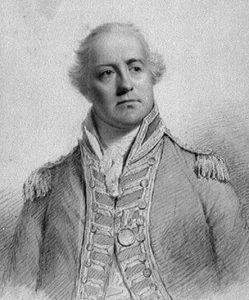 I must tell you before I proceed, that Sir James Gambier (the Consul General to the Paysbas, who is the best man that ever was) came to us about eight o'clock, and told us that there really had been a severe engagement, but that we had the advantage, that though the Guards had suffered most dreadfully, yet that their loss was not quite so great as had been reported, but that the Highlanders were literally nearly annihilated, after having performed prodigies of valor; and very good proof had we how dreadfully they had suffered, by the numbers who were brought in here, literally cut to pieces. Our house being unfortunately near the gate where they were brought in, most of them passed our door; their wounds were none of them drest, and barely bound up, the wagons were piled up to a degree almost incredible, and numbers for whom there was no room, were obliged, faint and bleeding, to follow on foot; their heads being what had most suffered, having been engaged with cavalry, were often so much bound up, that they were unable to see, and therefore held by the wagons in order to know their road. Everybody, as you may suppose, pressed forward, anxious to be of some service to the poor wounded Hero's but the people had orders that those who could go on should proceed to Antwerp, to make room for those who were to follow (dreadful idea), and therefore we could be of no further use to them than giving them refreshments as they passed.
In the middle of the day, we heard further particulars of the last night's battle, and if all danger had been removed far from us, which Heaven knows was very far from being so, we still should have felt nervous at the danger that had nearly befallen us. Conceive it having been run so near, that the French were within ten minutes of getting possession of the road to Brussels, which had they once gained, in all probability they would have reached the town in three hours.
Providence, however, ordered it otherwise, and the Guards, who had marched from Enghien 27 miles off, arrived at the lucky moment, and got possession of the road. They were shortly afterwards joined by the Highlanders, who some of them fought with their knapsacks on, having marched 20 miles and accordingly were enabled to keep their ground against the French.
The conduct of the English soldiers on that day was perfect, and would have been sufficient to have immortalized them, without the addition of the Sunday's battle, after which the Duke of Wellington said he should never feel sufficiently grateful to the Guards for their conduct on both days, which from the Duke means more than it would from anybody else.
Our Hero, Wellington, who had been deceived with the intelligence given him (for it is said that Bony had bribed most of his outposts), and had no idea that the French were so near, nor advancing in such force, was so distressed when he discovered the truth, that as usual totally regardless of his personal safety, he was exposing himself in the most dreadful way (I am speaking of the Friday's business at Quatre Bras, so named from four roads meeting), and already a party of French horse, having marked him out, were rushing on him with the greatest violence, when the Highlanders, who saw his danger, and it is said he never was in so great before, rushed between him and the French, and with the lives of hundreds, saved his still more precious one. On coming off the field, the Duke told some whom he met with, that their conduct had been noble and he should make a good report of them; of the 92nd regiment, out of seven hundred men, but one hundred and fifty remain to share the glory.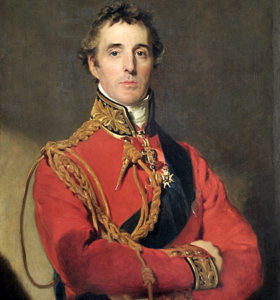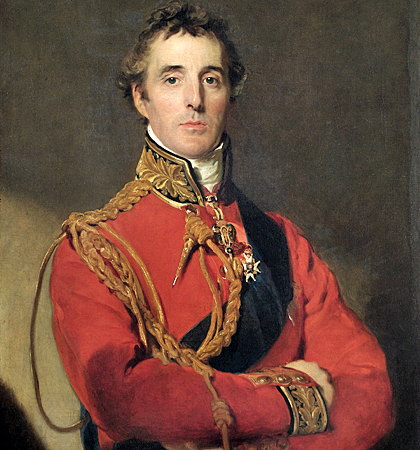 But to resume my narrative. We remained the whole of Saturday, in great suspense, to know that the armies were about, and whether the French were really retreating as had been reported; about four o'clock in the day, we were dreadfully undeceived, by being told from very good authority that instead of the enemy it was Lord Wellington who had retreated, and who with his whole army were within ten miles of the town; the reason given for his doing so, was that the Prussians had been attacked on the Friday evening whilst they were quietly cooking, and that having lost a tremendous number of men, Blucher had judged it prudent to retire, which being the case, he had left Lord Wellington's left flank so exposed, that it was impossible for him to remain where he was, and that he had therefore retreated to a strong position near Waterloo, whilst our cavalry were engaged in playing before them, to hide, as much as possible, their retreat from the French.
It was likewise added, that it was to be hoped that the Prussians would rejoin the English, as at that present time, the armies were near nine miles asunder, and that orders had been issued by the Duke for all baggage to be sent from the army through this town, and for the wounded, if possible, to be moved from it. All this looked so like retreating on the town, that we were told we must have horses ready, and everything prepared to go at an instant's notice, which accordingly we commenced doing, and from that hour 4 o'clock till eight in the morning (Sunday June 18) when we were fairly in Antwerp, were, I hope, the most harassing 16 hours I ever passed, or ever shall.
From that time the baggage wagons passed in such quick succession, that they formed cavalcades through the town, as not only those who were ordered to go, but those who desired to stay with the army, passed through, a general panic having seized all the officers' servants, by which means many have lost all they had, and everybody is minus something.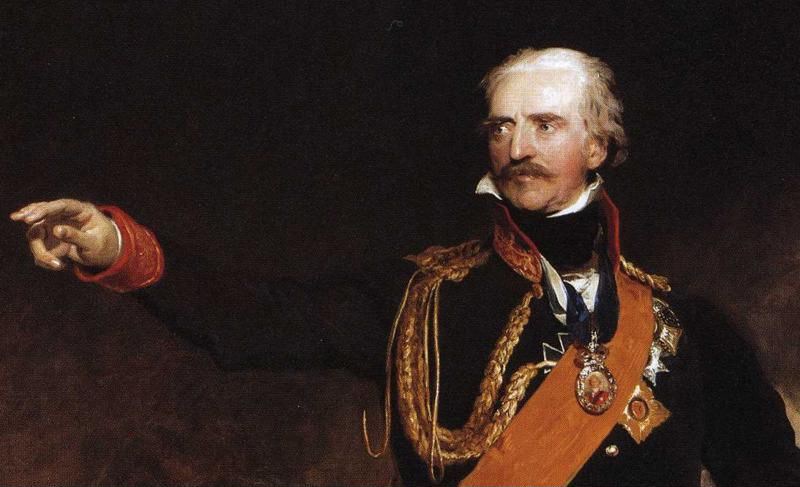 About every half-hour a man was heard scampering down the street calling out that the French were coming; some, indeed said they were at the gates, and though we knew that that could not be true, yet it was impossible to know how much foundation there was for saying so. About seven o'clock (Saturday June 17) our friend Sir James Gambier arrived to say that he hoped our things were nearly packed up, as though it was not necessary to go immediately, yet that he begged our things might be put to the carriage as we might be obliged to start at an instant's notice, for it was known that the Prussians were not joined, and if Buonaparte were to attack that night, there was no knowing what the event might be. (We have since heard, that if he had done so, the tide of affairs would in all probability have turned completely for him instead of being as it is now).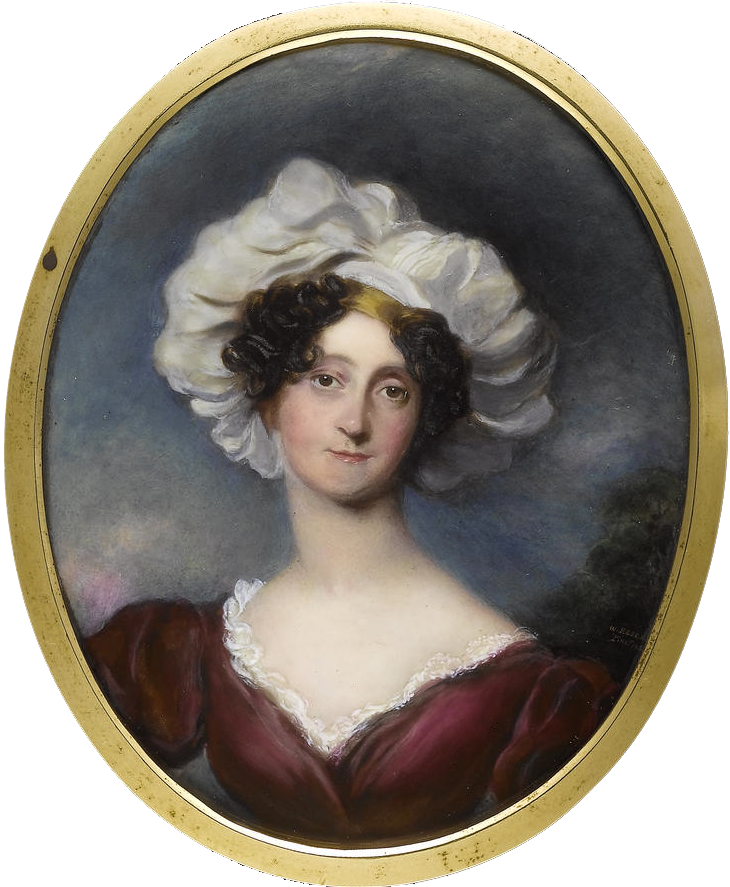 After Sir James went, we went out to see what our friends intended doing; we found that some were gone, others going, and all were prepared for the worst. We accordingly agreed, that at the time Lady Charlotte Greville went, we would accompany her, as everybody told us if we waited for the worst we could never get away; and as we knew for certain that Buonaparte had promised his soldiers after he had drawn 20,000,000 francs from the town, that they should have three days pillage of it, which, as the enraged French soldiery are not the most kind hearted possible, and as the English could expect no mercy for them, we though it madness to put ourselves in such danger, and accordingly everything was got ready. To increase the horror and noise, about ten o'clock, a most horrible storm of wind and rain came on, which lasted without intermission till three o'clock, when the wind abated, but the rain continued at intervals, the whole of Sunday, to which the whole of our poor soldiers were exposed with the additional hardship of having very little to eat, as they had been so continually changing their place for the last two days, that the officers have since told us, that for nearly eight and forty hours, they had barely two pounds of bread to eat; luckily, the Sunday morning, after the dreadful night they passed, the common men had a double supply of spirits, which enabled them to fight as they did.
The baggage wagons and fuyards [fugitives] continued passing, without intermission, and what with being deafened with the noise, and worn out with anxiety, we were in a terrible state of fatigue, when at half past two (Sunday the 18th) Lady Charlotte sent to say the Mayor of the town had sent to advise all the English to quit the town, and that she was waiting for us. We accordingly joined her, and though we were very much impeded by the road being blocked up with wagons in which were numbers of the wounded, lying exposed to all the inclemency of the weather, and were several times in danger of being overturned, yet providentially we arrived safe at Antwerp about eight o'clock (Note: The distance from Brussels to Antwerp by road is about twenty-seven miles). We found the greatest difficulty in getting a hole to put our heads in, but at last succeeded: Lady Charlotte proceeded on the Hague immediately, but we remained to wait the event. We were told by many people that the rain would prevent them fighting, which gave us ease for the time, and though we spent the day in great suspense, yet we were saved the dreadful indescribable anxiety of those who remained here; never can I be sufficiently thankful that we left this place. For the first time for three nights, Fanny and myself were enabled to sleep, and the next morning, Monday (the 19th) we were awoke, with the delightful news, that a decisive victory had been obtained, and that the French were retreating in disorder. The account of killed and wounded which we then heard made us shudder; how much more dreadful was it, when the whole list was made out! There are 724 English officers killed and wounded, and nearly 11,000 common men, without Hanoverians.
The conduct of the English infantry in the battle of Sunday was something so extraordinary, that Cambaceres, Buonaparte's A.D.C. who was taken, said Buonaparte himself had said that it was useless to fight against such troops, nothing could make them give way. They were formed into hollow squares, upon which the French cavalry, particularly the Cuirassiers, who wear complete armour, poured down, but without any avail, not one of their squares were ever broken, though perhaps from being six or eight lines deep, they came at last to only one.
There is a little wood and a farm-house in the midst of the field of battle, which is called Hougemont, and which it was necessary for the English to maintain possession of: 500 of the Guards under Lord Saltoun and Co. Macdonnell were put into it, to defend it, and though they were attacked by above 10,000 French, and the Farm-house was set fire to, and burnt to the ground, yet our Invincible countrymen still maintained possession of it, and finally repulsed the enemy. Do not you feel, while you hear these accounts, that your national pride increases every instant, and that you feel more thankful than ever that you are English born and bred? I have that sort of enthusiasm about me, that I almost feel inclined to shake hands with every soldier I meet walking in the streets. The light cavalry, I am sorry to say, for the first time in their lives, did not behave like Englishmen; the 7th Hussars and 23rd dragoons refused to advance when they were ordered, and poor Lord Uxbridge, who is as brave as a lion, and doats upon his regiment (the 7th) went up to Lord Wellington in the midst of the engagement, and said in the bitterness of his heart, My cavalry have deserted me! The heavy dragoons behaved admirably, and the horse Guards and Blue's who though they have been in Spain, were never before personally engaged, performed prodigies.—The Duke of Wellington has since said, that he never exerted himself in his life as he did on that day, but that notwithstanding, the battle was lost three times; he exposed himself in every part of the line, often threw himself into the squares when they were about to be attacked, and did what it is said he never had done before, talked to the soldiers, and told them to stand firm; in fact, I believe without his having behaved as he did, the English would never have stood their ground so long, till the arrival of 30,000 fresh Prussians under Bulow finished the day, for as soon as the French saw them, they ran.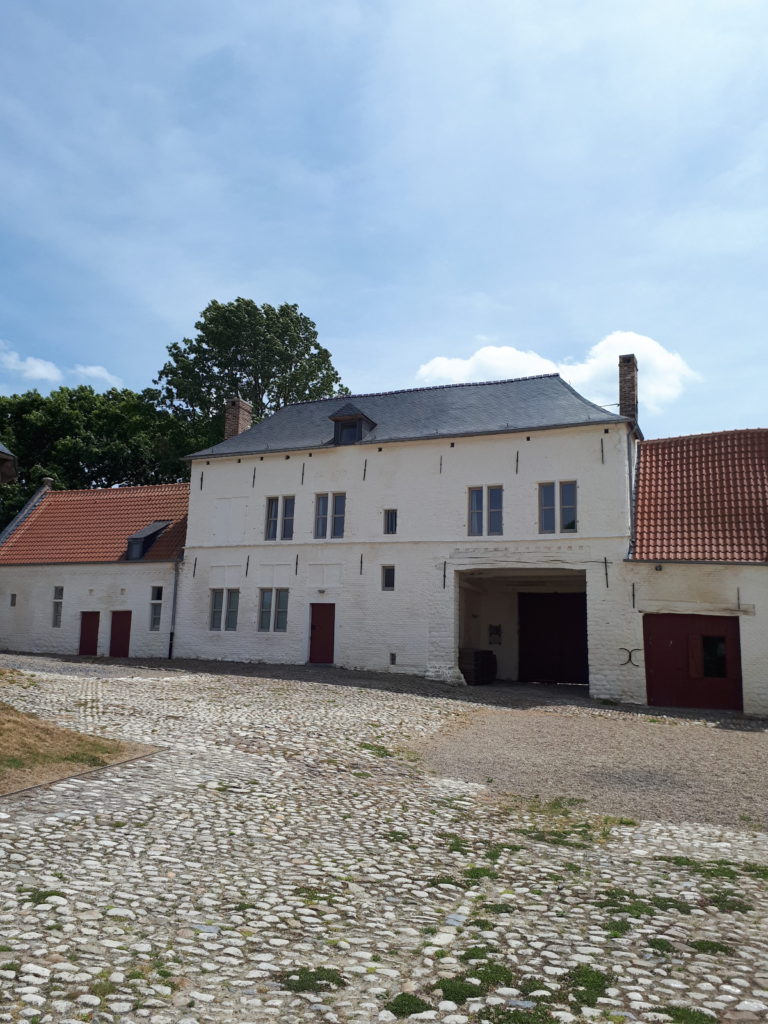 The conduct of the French cavalry is represented as having been most beautiful, and nothing could have withstood them but our soldiers. The day after the battle, when the Duke had leisure to consider the loss he had sustained in both officers and men, he was most deeply affected, and Mrs. Pole, who breakfasted with him said the tears were running down upon his plate the whole time. How much more noble the Hero appears when possessed of so much feeling!
You ask how we like the Duke, and whether he is haughty? To men, I believe he is, very often, but all his personal staff are extremely attached to him, and towards women his manners excessively agreeable and very gallant; we like him vastly. We went a few days since to see the field of battle, and everything offensive was removed, a most interesting visit; we went with an A.D.C. of Gen. Cooke, (who poor man, the General, has lost his arm), and who explained to us all about the battle.—I am quite ashamed, my dear Aunt, to think how much I have written; pray forgive me.  END
If you'd like to experience Waterloo first hand, to travel through history with us as we return to the year 1815, please click the link below to be taken to the Tour website.
The 1815 London to Waterloo Tour, April 2018 – find complete details here.