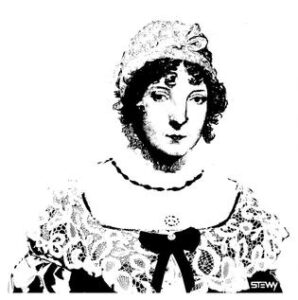 SARAH GUPPY (1770-1852)
By Louisa Cornell
Sarah Beach was born in Birmingham in 1770. She married Samuel Guppy, a Bristol businessman, in 1795. She took an early interest in his businesses which included an iron foundry and a nail factory to name a few. She was rather more sophisticated and better educated than her husband which would eventually lead to a rather estranged marriage. She was definitely not content to only run the household and raise their six children.
She took part in the invention of a new nail for copper sheathing in the hulls of ships to prevent barnacles. She also negotiated a contract with the Admiralty for its use which garnered her husband's business in excess of 40,000 pounds.
In 1811 Sarah patented the first of her inventions, a method of making safe piling for bridges – several years before Telford's Menai and Brunel's Clifton bridges. She was granted patent no. 3405 for "A new mode of construction and erecting bridges and railroads without arches or sterlings, whereby the danger of their being washed away by floods is avoided. I do fix or drive a row of piles, with suitable framing to connect them together, and behind these I do fix, or drive, and connect, other piles or rows of piles and suitable framing, or otherwise, upon the banks of the said river or place."
After the death of her husband in 1830, she continued to engage in his businesses. Her other inventions include a system of metal pipes to extinguish fires – the precursor of our sprinkler systems. The patent was issued in her second husband's name, but the invention was hers. She invented a bed with built in exercise devices. She invented a fire hood for stoves called the Cook's Comforter. She invented the teasmade, a tea urn which allowed eggs to be poached in the steam and had a compartment to keep toast warm.
Sarah continued to register patents for new inventions under the Copyright and Design Act of 1839.
Her first husband was many years her senior. Her second husband was 30 years her junior and she married him in 1837 before her family found out. Probably not her wisest decision as he pretty much decimated her fortune during the course of their marriage.
She died in Clifton, Bristol in 1852 with just 200 pounds to her name. The local press made mention of her death with regret and honored her with the epitaph "Her intellectual abilities remained undiminished to the last."
Contrary to some reports, Sarah did not invent the suspension bridge. However, many of the builders of the first suspension bridges in England knew her, sought her input, and either corresponded with or spoke with her on the problems and practicalities of building suspension bridges. And she did own a number of patents to do with the construction of suspension bridges.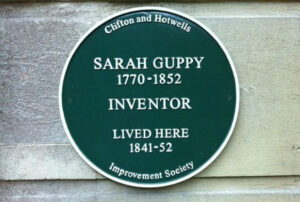 In 2006 the Clifton and Hotwells Improvement Society arranged for a plaque to be unveiled at her former home, 7 Richmond Hill, by her descendant Nicholas Guppy.