By
Louisa Cornell
Durs Egg
St. James, Piccadilly (1778)
Coventry Street (1786)
132 Strand
1 Pall Mall
In 1770 Durs Egg appeared in London "with 3 shillings and 6 pence in his pocket" and found work with the then famous British gunsmith Henry Nock. By 1772 he had his own business with rented premises in the Haymarket, Panton Street. On 3 June 1776 he sold two "Ferguson Rifle Guns" to the British army for £31, the first of many regular orders for arms, and by 1778 he was ensconced at St James, Piccadilly, where he counted the Prince Regent among his customers.
Among the numerous Durs Egg weapons which are shown as masterpieces in the weapons collection in Windsor, is a pair of pistols on which the trademark "Gun Maker To His Royal Highness" appeared for the first time. The prince's esteem for Durs Egg was revealed in a letter to his brother Prince Ferdinand of Hanover:
"… the rifle barrel gun was made by the best workman we have here; he is a Swiss German and his name is Egg. This gun is made after Ferguson rifle, it is almost the neatest piece of workmanship, ever was made."
From 1799 Durs Egg was allowed to call himself "Gun Maker To His Majesty, the Prince of Wales and the Duke of York".
During the war years against Napoleon Bonaparte, Durs Egg produced a large number of rifles and pistols for the army and he also supplied the French royalists, who had established themselves on the Channel Islands, with a large series of carbines. The historian John F. Hayward mentions in his work "The Art of the Old Gunsmiths" that Durs Egg was particularly famous for his double-barreled shotguns and dueling pistols, which he produced in large numbers.
Unfortunately for Durs Egg, the defeat of Napoleon and the ensuing peace meant that in 1815 his income fell from around £90,000 pa to about £2,300. He was also beginning to lose his sight at this time and became completely blind by 1822. He died in 1831.
Only one of his sons, John Egg (1795) followed in his footsteps. The financial situation, however, grew so dire that he had to close the doors of the business from 1831 until 1837 when he reopened at No. 4 Pall Mall in the Opera Colonnade, a few doors down from his father's old shop. After this he was quite successful, although as a gunsmith he wasn't in the same class as his father. John Egg was probably the supplier of arms for the last known pistol duel in England in 1843.
Triple barrel pistol created for the Prince Regent -still included in the Windsor Castle armaments collection.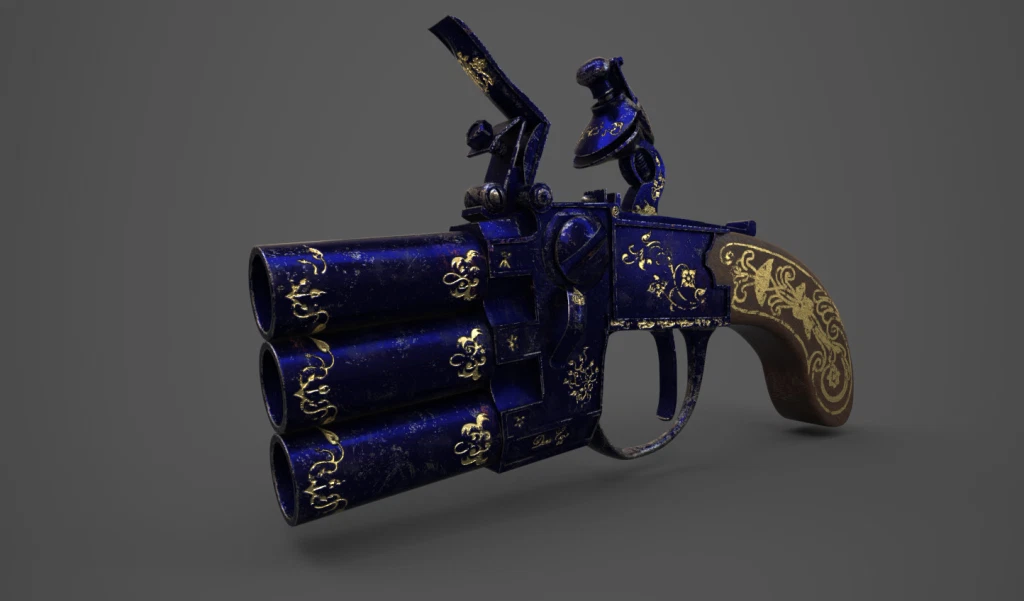 Joseph Egg & Sons
No. 1 Piccadilly (1802) Final and most well-known address.
Established Walker & Egg "Gunsmiths and Patent Spring Truss Makers" in 1801 at 59 Frith Street.
Established Tatham & Egg in 1802 at 37 Charing Cross (Partnership dissolved in 1814)
Established Joseph Egg & Sons in 1835
Jean Joseph Egg (1775-1837) was the brother of Durs Egg and worked for Henry Tatham from 1801. The two men later co-founded the company Tatham & Egg. In 1814 Joseph opened his own shop at Piccadilly Circus.
In 1800 he took out a patent for a "method of bending steel without the assistance of heat, which may be applied to the manufacturing of surgical instruments." In 1814 he advertised a self-adjusting truss, invented by him, protected by a German patent, used in many hospitals, and made at his shop at the corner of Piccadilly and the Haymarket. While these were both financially advantageous endeavors, his true fortune and claim to fame came from his guns.
Joseph was probably the most creative of the entire Egg gunsmith dynasty. His specialty at first was a new type of miniature pistols (pocket pistols) of the highest quality, whose precision is reminiscent of the work of watchmakers. They have one or two barrels and fittings made of engraved silver, in some cases even gold. This was followed by a whole series of inventions and patents. Joseph Egg's weapons can be found in Windsor Castle, the Leningrad Hermitage and the Metropolitan Museum of Art, New York.
Joseph Egg also dedicated a large portion of his business to high-end pistols, carbines and coach guns for wealthy patrons, with most of them never seeing much use despite being based on very practical designs.
In 1813 he took out a patent for "applying and improving locks." He also took out patents for a waterproof gun lock he devised, a self-primer, a percussion priming magazine, and he took out a French patent for a pellet lock.
This rare pistol is distinguished by its inverted flintlock. This repositioning of the ignition mechanism is emblematic of London gunmakers' pursuit of inventive methods to improve upon traditional firearm design. Joseph Egg, one of the preeminent gunmakers active in London in the early nineteenth century, patented the configuration in 1813, likely drawing inspiration from a small group of German rifles made in the 1750s which also featured inverted flintlocks. Benefits of the inverted lock included a cleaner sightline down the barrel and a downward-directed flash that allowed for improved vision when firing. Ultimately, Egg's design failed to gain popularity and few firearms of this type were made. Today, only three examples of inverted flintlocks by Egg and Henry Tatham, a gunmaker with whom Egg partnered from 1801–14, are known.