by Victoria Hinshaw
Originally published after Number One London's 2015 Duke of Wellington Tour, we're re-running this post on our St. James's Walk as we regularly include it on all our tours that begin or end in London. Our next is the Country House Tour, May 2021. Complete details can be found here.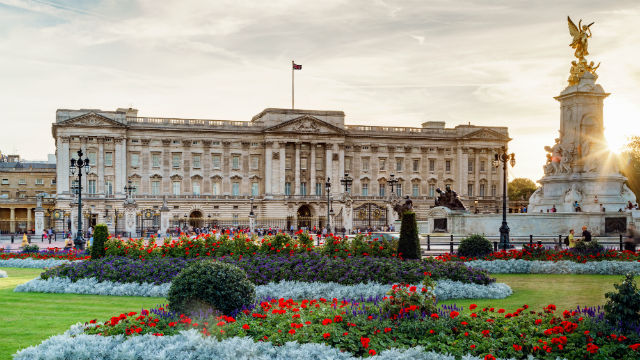 Kristine and Victoria led a walking tour of St. James's London, beginning with a view of Buckingham Palace and the Victoria Monument from Green Park. Being a Sunday, the  traffic circle and the Mall were closed to vehicle traffic and open to pedestrians and bicycles.  Our weather was perfect – warm and sunny.
The Stafford  Hotel (now much remodeled) was once the home of Sir William, 3rd Baronet Lyttelton, and his wife (1787-1870), the former Lady Sarah Spencer, niece of Georgiana, Duchess of Devonshire. After her husband's death, Lady Lyttelton became a governess to the children of Queen Victoria and Prince Albert.  During World War II, the Stafford was used as a club for American and Canadian officers, and the hotel remains known for its American Bar to this day.
Wandering around the maze of streets in this little corner of St. James's, we found a mix of modern (often brutalist) office/apartment complexes and 18th century listed buildings. A post-war office complex now faces Spencer House and stands as evidence of the bomb that was dropped on the site during WWII, which also blew out most of the windows of Spencer House. Remarkably, no one was injured in the blast.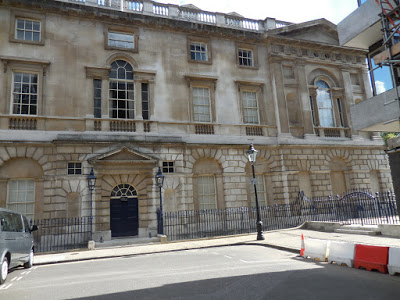 Above, and across from the Stafford, is the entrance facade to Spencer House in St. James's Place. Built 1756-66 by architects John Vardy and James "Athenian" Stuart for John, 1st Earl Spencer, Spencer House is now owned by the Rothschild Enterprise's RIT Capital Partners and open on most Sundays for a tour of the State Rooms.  The website is here and includes photos of both the exterior and interior.
A few doors down from Spencer House is this handsome brick house, once the residence of  Williams Huskisson (1770-1830). The blue plaque refers to him as a statesman; he was often a strong political opponent to the Duke of Wellington in Parliament.  Huskisson also became England's first railroad fatality. During the inaugural run of the Manchester to Liverpool railroad, he was amongst the dignitaries invited to travel on one of two trains opening the route. When the trains stopped at a siding to take on water, Huskisson left his carriage and crossed the tracks to the second train, unaware that Stephenson's train, the Rocket, was headed straight towards him on the middle track. Huskisson's leg was crushed by the Rocket and he died a few hours later. Unfortunately, the accident was witnessed by several notables who were on the trip, including the Duke of Wellington.
Next door, No. 29 was once the residence of Winston Churchill.
No. 5  was the home of Sir Robert Walpole (1676-1745)
and his son Horace Walpole (1717-1797)
Duke's Hotel is another elegant institution, located just off St. James's Place.
St. James's Place opens into St. James's Street, famous for gentlemen's clubs of the British variety and several very old and traditional merchants.  The numbering begins at the Palace and goes north up the east side of the street to Piccadilly then crosses to the west side and counts southward back to the Palace.
A Grenadier Guard at St James's Palace, built by Henry VIII
Entering St. James's Street, we find many Georgian and Regency institutions, including Berry Bros. and Rudd, Ltd, Wine Merchants, at No. 3.
A Passage beside the wine store leads to Pickering Place, above.
This little space was once known as a spot for dueling, but it must have been pretty tight! Another plaque commemorates the location of the Texas legation 1842-1846.
Pickering Place,with a plaque of Lord Palmerston
Lock and Co. Hatters have served British dignitaries for more than 300 years.
Lobb and Co. Bootmakers
Closer to Piccadilly on the east side of the street are two famous Clubs
Boodle's, #27  St. James's Street
.
The chemist's shop, D. R. Harris, founded in
White's Club, #37/38 St. James's Street, founded 1693
On the west side, heading back to St. James's Palace, you will find Brook's Club.
Brooks's 60 St. James's Street,  club founded in 1762
The headquarters of Justerini and Brooks Ltd. at 61 St. James Street,
across Park Place from Brooks's.
The Carlton Club, #69 St. James's Street, founded in 1832
#74 St. James's Street, formerly the Conservative Club, completed in 1845
Returning to Piccadilly, we stopped for a welcome sit-down and a coffee or tea. Even on a Sunday morning, Piccadilly was busy, as usual an international mish-mash of tourists globe-wide. Great people watching!
Burlington Arcade
We walked east on Piccadilly past a number of famous sites:
on the north side of the street, Burlington Arcade.
And Burlington House, home of the Royal Academy of Arts.
Tucked almost beside Burlington House is the  famous residence, Albany, once the home of Lord Byron and more recently, Georgette Heyer.  Built originally as Melbourne House. it was traded by that family to the Duke of York and Albany (2nd son of George III) in exchange for what became Melbourne House in Whitehall, now the Scotland office just south of Horse Guards. Later it became prestigious bachelor quarters, eventually open to women as well.
Albany
Fortnum and Mason
Soon, we arrive at the wonderful St James's Church, Piccadilly.
Outside the church is a small but lively marketplace
Baptismal font
The famous wood carvings of Grinling Gibbons
Floris Perfumers on Jermyn Street
Nearby, a plaque marking the location of the residence of Sir Isaac Newton (1642-1727)
Chequers Pub
Time for another pause that refreshes, this time at Chequers…a charming little pub in Duke street. At the rear of the building or accessible from a passage beside it is Mason's Yard, another hidden collection of interesting sites, including the White Cube Gallery and the member's entrance to the London Library.
William III in St. James's Square
At last we came to St. James's Square, still a leafy oasis, though a private park as so many of the squares in London are.
There are still a few of the buildings originally built here, though much remodeled, and many replaced.  At #4 is the Naval and Military Club, better known as the In and Out Club.
#4 St. James's Square
The plaque honors Nancy Astor (1879-1964), first woman to sit in Parliament, who once lived here.
Henry Jermyn, 1st Earl of St. Albans, 1605-1684
Following the Restoration of King Charles II in 1660, Henry Jermyn was Lord Chancellor, and received a grant of land north of St. James's Palace, which he had cleared and laid out for development. He is known as the Father of the West End.  He died shortly before the completion of St. James's Church, just north of St. James's Square.
At #10 St. James's Square stands Chatham House, the Royal Institute of International Affairs, site of many important multilateral events.  The building was once home to three Prime Ministers, William Pitt, 1st Earl of Chatham (1708-1778), Edward Geoffrey Stanley, Earl of Derby (1799-1869), and William Ewart Gladstone (1809-1898).
Plaque honoring three Prime Ministers at #10 St. James's Square
Ada, Countess of Lovelace (1815-52) at #12 St James's Square
Ada Lovelace was the only legitimate child of Lord Byron and his wife, Anabella Millbanke.  She was a mathematician and a pioneer in computing.
London Library, #14 St. James's Square
The private library, established in 1841, is a favorite of many British writers and historians. Kristine and Victoria returned here the week after the tour for a special viewing during London Open House Week.
#16 St. James's Square, above, once the Boehm residence where the Prince Regent received the despatches of the Duke of Wellington after the Battle of Waterloo,now the East India Services Club.
By this time we were all ready for our tea, so we hiked back to Piccadilly and the wonderful Richoux Tea Room at #172.
Left to right: Kristine, Marilyn, Donna, Ki, Victoria and Diane
In 2018, the St. James's Walk will be a part of our Georgian England Tour and our 1815: London to Waterloo Tour. Complete details on both Tours can be found here.