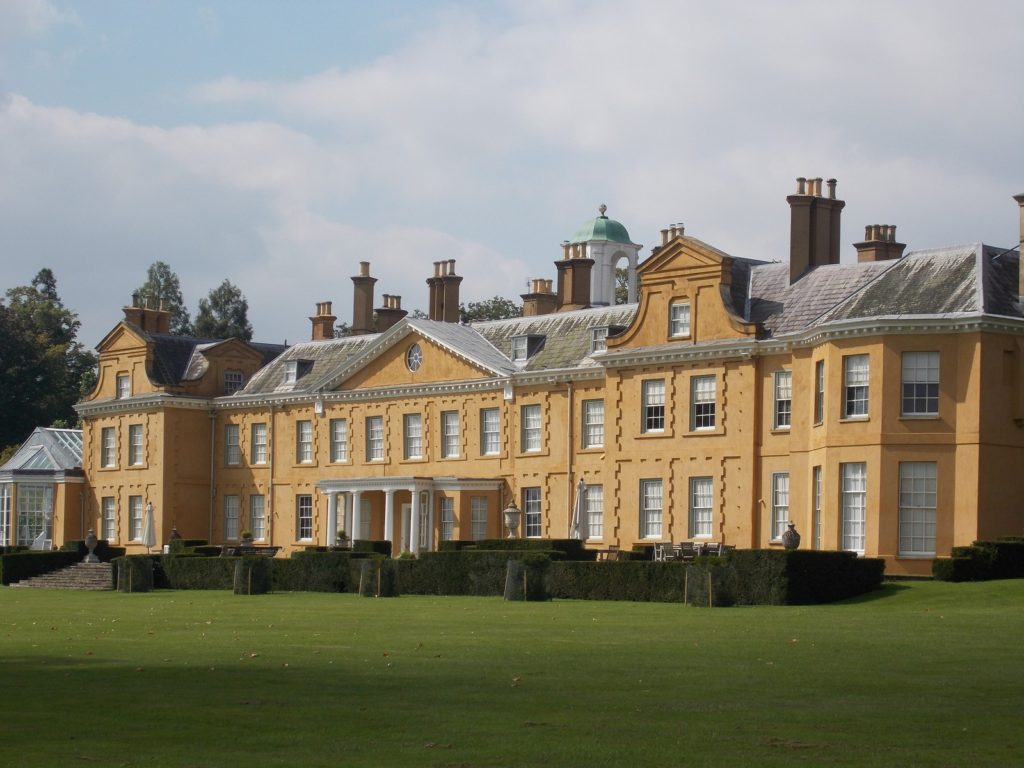 In retirement Copenhagen must have become somewhat mellowed because he was regularly ridden by friends and children at the Duke's country estate of Stratfield Saye (above), although Lady Shelley said he was the most difficult to sit of any horse she had ever ridden. The Duchess (of Wellington) often fed him with bread and this it was said gave him the habit of approaching every lady with the most confiding familiarity. Over the years hair had been taken from the horse and made into bracelets for the ladies.
Lady de Ros, the last survivor of those who danced at the Duchess of Richmond's ball in Brussels on the evening before the battle of Waterloo, also the last among those who had mounted "Copenhagen," published a little volume of recollections of Wellington which contained the following extract:
"We often stayed with the Duke at Abbaye, Mount St. Martin, Cambrai, and one morning he announced that there would be a sham battle, and that he had given orders to Sir George Scovell that the ladies riding should be taken prisoners, so he recommended our keeping close to him. I had no difficulty in doing so, as I was riding the duke's Waterloo charger "Copenhagen," and I found myself the only one within a square where they were firing. To the Duke's great amusement, he heard one of the soldiers saying to another: "Take care of that 'ere horse; he kicks out. We knew him well in Spain," pointing to Copenhagen. He was a most unpleasant horse to ride, but always snorted and neighed with pleasure at the sight of troops. I was jumping with him when the stirrup broke, and I fell off. In the evening the Duke had a dance, and said to me, "Here 's the heroine of the day—got kicked off, and didn't mind it."
This passage from a letter by Lady Shelley indicates that she concurred with Lady de Ros regarding Copenhagen's merits as a mount:  "I dined at three o'clock to-day, in order to ride with the Duke, who offered to mount me on Copenhagen. A charming ride of two hours. But I found Copenhagen the most difficult horse to sit of any I had ever ridden. If the Duke had not been there I should have been frightened. He said: "I believe you think the glory greater than the pleasure in riding him!"
The first Duchess of Wellington (above), with whom Copenhagen was a great favorite, wore a bracelet of his hair, as did several of her friends. Her daughter-in-law, the second Duchess, who was much admired by the great Duke, accompanied author James Grant Wilson on his last visit to the field of Waterloo and gifted him with a bracelet and breastpin made of Copenhagen's mane. On his last visit of several days at Strathfieldsaye in September, 1883, Wilson received from the second Duke as a parting gift a precious lock of the Waterloo hero's hair and a sheaf of the charger's tail.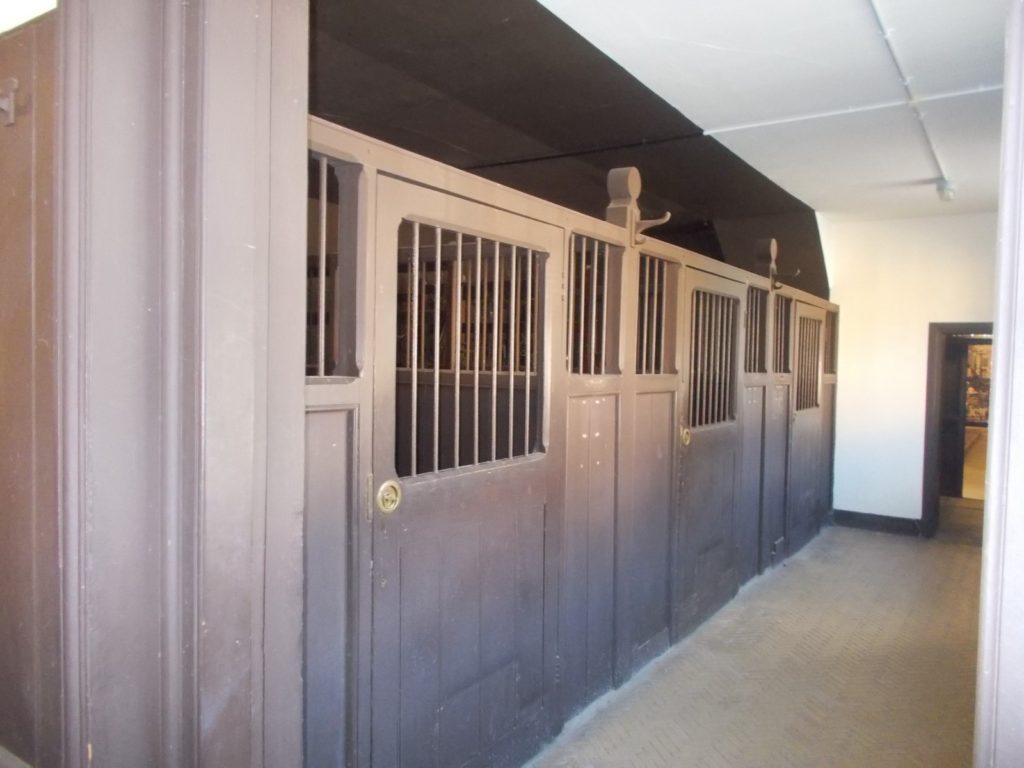 In his latter days, Copenhagen became blind and his oats were broken for him, and "the Duchess" used regularly to hand feed him bread. When the great horse died in 1836, at the remarkable age of 29, the Duke of Wellington directed that he be given a funeral with full military honors.
But the day of the burial was worsened for the Duke, who noticed that one hoof had been removed from the body and flew into a  terrible passion about the mutilation. After the Duke's own death, the guilty servant who had taken the hoof as a memento came forward to confess and presented it to the second Duke who had it made into an inkstand. As the second Duke explained, "Several years after my father's death an old servant of the family came to me in the library, and, producing a paper parcel, spoke as follows: `Your Grace, I do not believe that I have long to live, and before I die I wish to place in your hands what belongs to you.' With no small degree of surprise I inquired what it was, and when he opened the package and produced a horse's hoof he said: `Your Grace, when Copenhagen died I cut off this hoof. None of us imagined that the duke would trouble his head about the body of the war-horse, but, to our great surprise, he walked down to the stables on his sudden return from London to see him buried. He instantly observed that his right forefoot was gone, and was in a fearful passion. No one dared tell him how it happened. I have preserved the hoof carefully for thirty years, and I now return it to your Grace.' The inkstand is now on display at Apsley House, London.
Copenhagen's grave, which can be seen today, is marked by a magnificent turkey oak tree planted in 1843 by Mrs. Apostles, the Duke's housekeeper. As a mark of respect the second Duke erected a stone marker on the grave where it remains to this day. A few years ago, Victoria and I had the honour of placing roses on the grave during Number One London's Duke of Wellington Tour.
At one time, the War Museum approached the Duke about disinterring Copenhagen in order to keep his skeleton in the Museum alongside the skeleton of Napoleon's horse, Marengo. But the Duke thwarted the idea by saying he was not sure exactly where the horse had been buried. Of course, he knew precisely where Copenhagen's remains were under the turkey oak in the Ice House Paddock at Stratfield Saye, but he obviously preferred to keep his loyal friend at home with him.
When the painter Haydon was working on a portrait of the Duke and Copenhagen after the horse's demise, he ran into creative difficulties before he could design his rough sketch of the horse and his rider. These would have been greatly increased if Lord FitzRoy Somerset had not been induced by Lady Burghersh to call at the painter's studio. Here are some extracts from Haydon's Diary:
"July 8th, 1839.—Lord FitzRoy Somerset called yesterday with his daughter to see my sketch of Copenhagen, whom I had studied from the pictures of other artists who had painted him, and especially that done by Webb in 1824. Lord FitzRoy's daughter is as good a judge of a horse as he is, and they both thought Copenhagen too leggy and too big in the body, which gave him a heavy look. Lord FitzRoy said:
'The Duke never holds his own horse. Copenhagen came out to Lisbon with Lord Londonderry, and the Duke bought him for 200 or 250 guineas. . . . the Duke never rode upon a battle-field without being accompanied by an orderly dragoon. At Waterloo his dragoon was killed, and Major Canning asked, 'What shall I do with the Duke's little desk, now the orderly is killed?' ' Keep it yourself,' answered Lord FitzRoy. Presently Major Canning was also killed, and the desk was found next morning with the lock broken open. This was the rough little wooden desk which attracted so much notice at Apsley House when it was first opened to the public."
A few days later, Count D'Orsay (left), a painter in his own right who had himself painted a portrait of the Duke, called on Haydon, having been asked to do so by Somerset.
"July 10th, 1839.—Count D'Orsay  came to my studio, and pointed out several things to correct in the horse. I hastily executed them, but he took my brush in his dainty gloved hand and lowered the hind-quarters by bringing in a bit of the sky. Such a dress! White great coat, blue satin cravat, hair oiled and curling, hat of a wonderful curve; gloves scented with eau de jasmin, primrose in tint, skin-like in tightness. Yet this primest of dandies took up a nasty, oily, dirty hog-brush, and improved Copenhagen by touching the sky. After he had gone I thought, 'This will never do ! A Frenchman sketching Copenhagen !' So I rubbed out all he had touched, and adopted his hints myself with modifications."
After Copenhagen's death, the horse the Duke preferred during the last twenty years of his life was a hunter class of animal, a good walker, ridden in a snaffle-bridle, like a huntsman's horse, without a thought of showing off the animal's paces. Before age had bent him the Duke's seat was remarkably upright; lost in thought, he passed along, mechanically acknowledging with his upraised forefinger the many hats raised to salute the Great Duke.
As he grew old and infirm, instead of bending forward like most old men, he leant back in the saddle and literally hung on by the bridle, generally going down St. James's Park to the Horse Guards at a huntsman's shog-trot.

Wellington and Copenhagen have been immortalized as a pair in various art mediums. The statue of Wellington astride Copenhagen now at Aldershot was first destined to stand at Hyde Park Corner. Wellington himself sat for the sculptor, Wyatt. Fittingly, much of the bronze in the statue is derived from French cannon captured at Waterloo and remelted in Wyatt's foundry. Copenhagen, however, had died and a substitute horse, a mare called Rosemary was used as a model, offending many at the time who saw a poor likeness to Copenhagen in the statue. In 1846 the statue was moved with great pagaentry from Wyatt's workshop to Hyde Park Corner. It was moved on a huge low carriage that had wheels 10 feet (3.0 m) in diameter and had been constructed by H. M. Dockyards at Woolwich. The carriage was hauled by a hundred men of the Scots Fusilier Guards; as it emerged onto the road, it was greeted by enthusiastic cheers from the crowd of sightseers. Twenty nine horses then drew the carriage to Hyde Park Corner. It took some hours to get the statue into position for hoisting and the final lift and fixing into position on the as yet unfinished victory arch was completed the following day.
This lock of hair resides at the Willis Museum in Basingstoke, near the Duke of Wellington's home, Stratfield Saye, and is said to come from the mane of Copenhagen and to have been presented to Miss Charlotte Pigot by Wellington himself. Miss Pigot was an ancestor of the Hon. Mrs Bunbury, who gave the hair to the Museum. Also on display is one of Copenhagen's horseshoes and a piece of the Wellington oak, said to have come from the tree under which Wellington established a position at Waterloo.
As a further memorial, the Copenhagen Building in Glasgow, Scotland, was named for the Duke's horse and his contribrution to British history. There is a memorial to the horse in the lobby.