from Victoria Hinshaw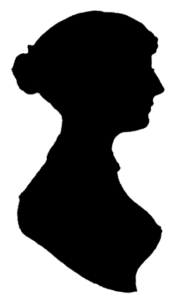 Jane Austen died on July 18, 1817, in Winchester, Hampshire, at age 41. Austen is the author of six complete novels, several fragments and juvenilia.  In her short lifetime, she published four novels –  Sense & Sensibility, Pride and Prejudice, Mansfield Park, and Emma.  A half year after her death, her brother Henry supervised the publication of two more, both of which he actually named.  Northanger Abbey had been written some years before under the name of Susan, and Persuasion was known to its author as The Elliots.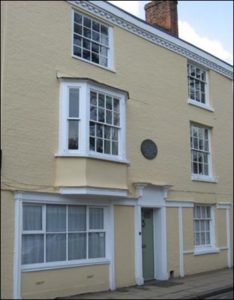 Jane Austen died in a house in Winchester, 8, College Street. She and her sister Cassandra left their home in Chawton to be near a recommended doctor. She wrote in May:
I live chiefly on the sofa, but am allowed to walk from one room to the other. I have been out once in a sedan-chair, and am to repeat it and be promoted to a wheeled chair as the weather serves…my dearest sister, my tender watchful, indefatigable nurse has not been made ill by her exertions. As to what I owe to her, and to the anxious affection of all my beloved family on this occasion, I can only cry over it, and pray to God to bless them more and more."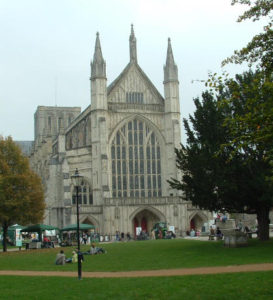 Winchester Cathedral, Hampshire
         Jane Austen's last illness began about a year before her death. She suffered  weakness and fainting, stomach, and discoloration of the skin.  The most accepted diagnosis is Addison's disease – a glandular condition somewhat related to tuberculosis. Jane Austen made light of her troubles until near the end.  She had severe back pain on and off, and she and Cassandra went to Cheltenham spa  in May 1816 where she took the waters and consulted experts of the day.
     In a letter dated 23 March  to her niece Fanny she wrote:
"I certainly have not been very well for many weeks, and about a week ago I was very poorly, I have had a good deal of fever at times and indifferent nights, but am considerably better now and recovering my looks a little, which have been bad enough, black and white and every wrong colour.  I must not depend upon ever being blooming again.  Sickness is a dangerous indulgence at my time of life."
Two weeks later, on 6 April, a letter written to her brother Charles tells of severe attacks:
"I have been really too unwell the last fortnight to write anything that was not absolutely necessary, I have been suffering from a bilious attack attended with a good deal of fever….  I was so ill on Friday and thought myself so likely to be worse that I could not but press for Cassandra's return with Frank." …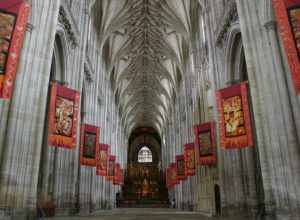 When Jane died on July 18, 1817. Cassandra, Jane's dear sister, wrote:
Since Tuesday evening, when her complaint returned, there was a visible change, she slept more and much more comfortably; indeed, during the last eight-and-forty hours she was more asleep than awake. Her looks altered and she fell away, but I perceived no material diminution of strength, and, though I was then hopeless of a recovery, I had no suspicion how rapidly my loss was approaching.
I have lost a treasure, such a sister, such a friend as never can have been surpassed. She was the sun of my life, the gilder of every pleasure, the soother of every sorrow; I had not a thought concealed from her, and it is as if I had lost a part of myself. I loved her only too well — not better than she deserved, but I am conscious that my affection for her made me sometimes unjust to and negligent of others; and I can acknowledge, more than as a general principle, the justice of the Hand which has struck this blow.
Jane Austen, by her sister, Cassandra Austen, c. 1800, National Portrait Gallery
You know me too well to be at all afraid that I should suffer materially from my feelings; I am perfectly conscious of the extent of my irreparable loss, but I am not at all overpowered and very little indisposed, nothing but what a short time, with rest and change of air, will remove. I thank God that I was enabled to attend her to the last, and amongst my many causes of self-reproach I have not to add any wilful neglect of her comfort.
She felt herself to be dying about half-an-hour before she became tranquil and apparently unconscious. During that half-hour was her struggle, poor soul! She said she could not tell us what she suffered, though she complained of little fixed pain. When I asked her if there was anything she wanted, her answer was she wanted nothing but death, and some of her words were: "God grant me patience, pray for me, oh, pray for me!" Her voice was affected, but as long as she spoke she was intelligible.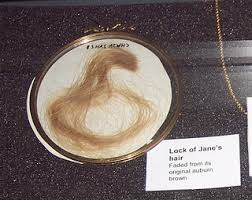 Cassandra cut off locks of Jane's hair for family members before the burial.  One such lock, presumably faded from its original color, is displayed at the Jane Austen House Museum in Chawton.
Jane Austen is buried in the North aisle of the Winchester Cathedral.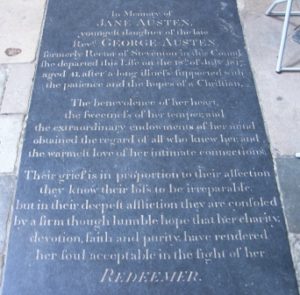 The Gravestone in Winchester Cathedral engraving, written by Henry Austen.
In Memory of  JANE AUSTEN, youngest daughter of the late Revd GEORGE AUSTEN, formerly Rector of Steventon in this County. She departed this Life on the 18th of July 1817, aged 41, after a long illness supported with the patience and hopes of a Christian.
    The benevolence of her heart, the sweetness of her temper, and the extraordinary endowments of her mind obtained the regard of all who knew her and the warmest love of her intimate connections.
  Their grief is in proportion to their affection they know their loss to be irreparable, but in their deepest affliction they are consoled by a firm though humble hope that her charity, devotion, faith and purity have rendered her soul acceptable in the sight of her REDEEMER.
Note there is no mention of her novels. She was eligible for burial in the Cathedral because she was a rector's daughter. Though some observers find this simple explanation insufficient – at least the writer of this piece extolled "the extraordinary endowments of her mind," but it doesn't sound like Henry thought she'd be celebrated as one of the greatest novelists in English literature.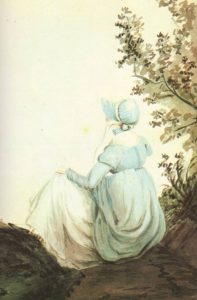 Jane Austen, watercolour by Cassandra, c. 1804
        In 1872 a brass plaque was placed on the wall in Winchester Cathedral by Jane's nephew, James Edward Austen-Leigh, (who had added Leigh to his name after inheriting an estate from a relative on his grandmother's side of the family) son of Jane's brother James, with the following inscription: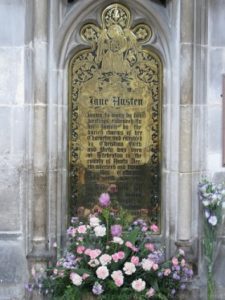 "Jane Austen. Known to many by her writings, endeared to her family by the varied charms of her character and ennobled by her Christian faith and piety was born at Steventon in the County of Hants, December 16 1775 and buried in the Cathedral July 18 1817. "She openeth her mouth with wisdom and in her tongue is the law of kindness."
Nearby is a stained glass window in honor of Jane Austen, created with subscriptions from the public in 1900.  The biblical and  literary references portrayed were well known in those days, but since have become obscure to most observers.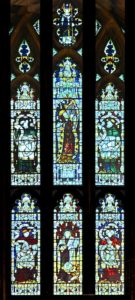 Jane Austen has millions of fans worldwide.  Many observances are being held in England and elsewhere this year, marking the bicentenary of her death. This fall, the Jane Austen Society of North America (JASNA) will hold its Annual General Meeting  in Huntington Beach CA. to celebrate her legacy.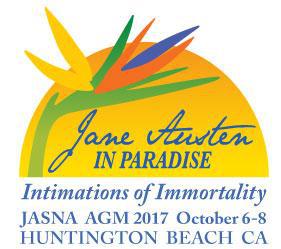 Over the past two hundred years, opinions of Austen's works have varied but one cannot deny that she has achieved both an exceptional literary reputation and phenomenal  popular success in every form of media imaginable.  Jane was only 41 when she died, Imagine what she might have done with a few more years.