by Victoria Hinshaw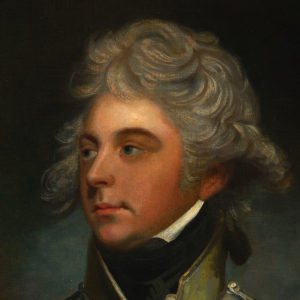 George Prince of Wales was only 17 years old when he attended a performance of Florizel and Perdita, a play adapted from Shakespeare's A Winter's Tale.  In the words of actress Mary Robinson's biographer, Hester Davenport, the Prince "was looking for a woman to worship," perhaps HAD been looking already, when he sat in his box at the Theatre Royal, Drury Lane and "fell in love." 
As Ms. Davenport points out, this was not Shakespeare's Winter's Tale, but an adaptation by David Garrick, known as Florizel and Perdita, in which Perdita is a sweet and charming maiden. The Prince sent Mary notes addressed to Perdita and signed them Florizel, as though they were the characters in the play. So began his first publicly known affair, the first of many.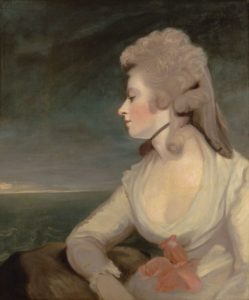 Mary was born Mary Darby in Bristol in November of 1757 or perhaps 1758, which made her a few years older than the prince (b. 1762). Her "disastrous" marriage at age 16 to Thomas Robinson brought her a daughter, Maria Elizabeth (b. 1774), but little financial or emotional support. Eventually, she began to perform on the London stage, often in "trouser roles," playing young men and displaying her fine figure for all to admire.
Though Prince George did not remain faithful to her for long, Mary was known as Perdita all her life.  While she enjoyed the Prince's attentions, she was the toast of London, extolled and excoriated in the newspapers, the object of considerable gossip in noble salons, especially among the males.

By the time the fanciful caricature above was published in 1783, the relationship was "quite out of date." When the Prince quite publicly took up with other females, Mary refused to send back all his letters and other tokens of his fickle adoration. Later she received a not-so-secret payment in exchange for the return of some of them.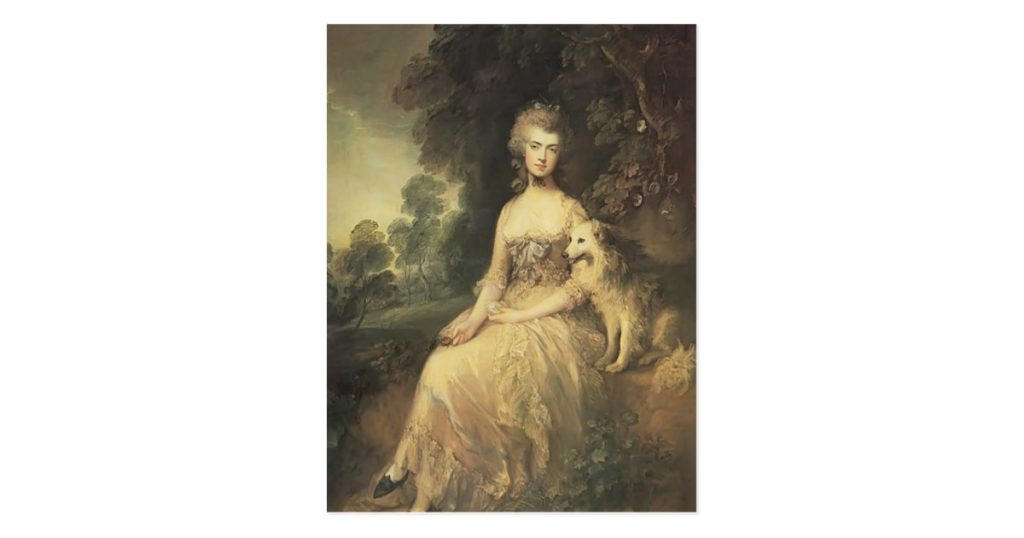 In 1781, Mary sat for a portrait by Thomas Gainsborough, commissioned by the Prince. In this version of the painting in the Wallace Collection above  (another is in the Royal Collection), Mary holds a miniature of the Prince in her right hand.
Mary had only a brief time in the limelight of the London demi-monde. Only a few year later, she was reported to be "desperately ill." Various explanations for her condition have been suggested, but the causes of her maladies remain mysterious. In May of 1791, she published a book of poems, "a small but handsomely bound volume with marbeled end papers," made possible by sums raised by 600 subscribers, including the Prince of Wales, the Duke of York, the Duke of Clarence and many other luminaries.
In 2010, Kristine and Victoria, along with Kristine's daughter, Brooke, visited with Hester Davenport in Windsor, here at the Castle.
Hester Davenport chronicles the reception Mary's book received. Readers seem to ask, "How was it possible to connect the frivolous woman of 1780s gossip with a writer of pensive odes, elegies and sonnets?" That Mary acquired the title 'The English Sappho,' possibly at her own instigation, may have added to the this (seductive) sense of being wooed.
Mary lived only a few more years, dying in 1800, having never recovered her health. She had, however, continued to write poetry as well as her memoirs, several novels, plays and feminist essays.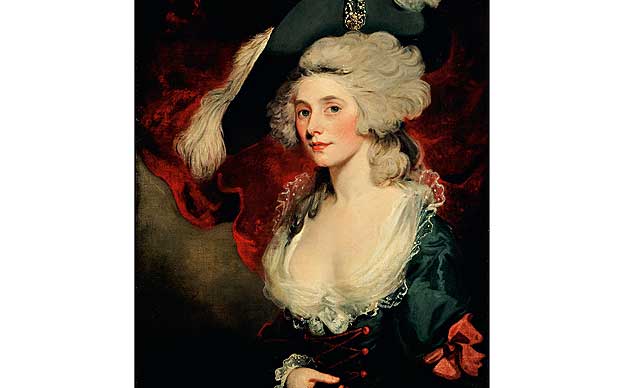 As an endorsement of the value of her literary work, the painting of Mary Robinson by Hoppner, above, was acquired for the Chawton House Library, where it is displayed prominently. Many works by Mary Robinson are available from their website. Her biography is here.
We all hope that future scholars will pay attention to this fascinating woman and her body of work. In the epilogue of her biography, Hester Davnport writes, "Mary Robinson was dead: the talented actress, spectacular Cyprian, accomplished and industrious  author, committed feminist and radical, charming and witty hostess, spendthrift, devoted daughter and mother, compassionate, sensitive and sometimes spikily difficult woman.  A genius? Perhaps only in her extraordinary versatility, but not undeserving of the 'One little laurel wreath,' she craved."
Note: Victoria, Jo Manning and Kristine lost their dear friend Hester Davenport in September 2013. We like to think that she and Perdita are together, drinking tea and catching up on two centuries worth of gossip.