Louisa Cornell
A fellow author recently told me about a review of one of her Regency historical romances in which the reader objected to the heroine being in possession of her own fortune and business. As March is Women's History Month, I thought it appropriate to blog about a woman who not only owned her own business, but was considered a leader in her field even by the rather chauvinistic men of her era.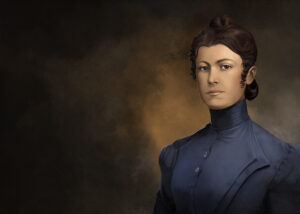 Eleanor Coade was born in June of 1733 in Exeter. Her father was a wool merchant. The family moved to London in 1759 after Eleanor's father's business went bankrupt. Eleanor set up a linen and drapery business not long after they arrived in London. Here is where she gained her first experience and knowledge as to how to run a business. After her father's death in 1769 Eleanor went to work setting up her own stone factory at King's Arms Stairs, Narrow Wall, in the Lambeth area of London.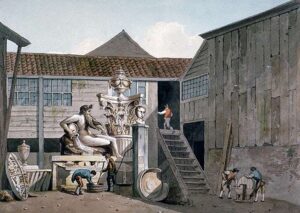 The source of her funding for opening and operating such an endeavor is not well-known. However, as her family were dissenters-Protestants who did not adhere to the tenets of the Church of England – it is believe the money came from a combination of her linen and drapery business and investments from other dissenters. These sorts of investments were common in an age when many dissenters were shunned for their religious beliefs. However, as a woman Eleanor must have been incredibly professional and persuasive to gain the sort of investors it likely took to found such an expensive concern.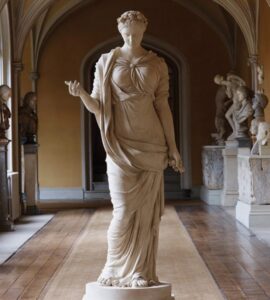 A number of factors came together to make Eleanor Coade the right person in the right business at the right time. She was sharp enough and insightful enough to know that and to take advantage of the situation. The local Building Act of 1774 banned all but the absolute necessary use of wood in building due to the fire hazard wood presented. Stone became the preferred high status building material of choice in spite of its expense, labor intensity, and the taxes involved.
Eleanor Coade's artificial stone made from a ceramic process came along at the perfect time. Because of its malleability, it became the most used material when it came to creating stunning architectural embellishments for beautiful exteriors and interiors. Throughout the first half of the eighteenth century many different kinds of artificial stone had been created to serve this purpose. Most of these, however, failed the tests of the elements or where inferior to the task of producing detailed stonework.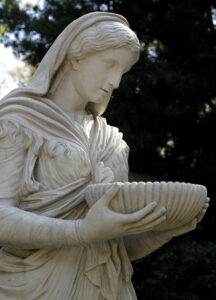 The material produced at Mrs. Coade's Lambeth facility was workable enough to create details as fine as those by French and Italian artisans working in actual stone. It shrank very little in the firing process and best of all the color mimicked that of actual stone. Under her direction, her factory produced a kiln-fired ceramic made of a somewhat secret formula of clay, grog, flint, sand, and glass. It could be cast in molds and was impervious to weather and the attachment of lichens and other discoloring agents.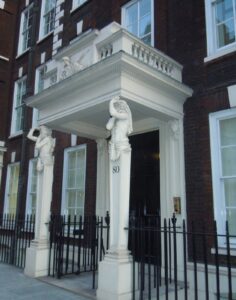 In a clever PR move Eleanor hired celebrated sculptor John Bacon (1777-1859) and showcased his classically Greek pieces in a showroom in London. Coade stone was in demand by architects like John Nash, Robert Adam, and John Soane to name a few. Pieces from her factory graced the finest homes in England and her factory even produced pieces for King George III and the Prince of Wales aka Prinny.
Though Eleanor used the name Mrs Coade, she never married. Unmarried women in business at this time adopted the title Mrs. as a sort of protection and mark of respectablity. Apart from the 14 years from 1799 when she was in partnership with her cousin, John Sealy, she remained in sole charge of the business. In 1799 the company opened a spacious showroom, Coade's Gallery, near the south end of Westminster Bridge to better display their wares.
In later life Eleanor Coade was an active philanthropist, helping those in need – usually women in difficult circumstances. The bequests she left to three married women in her will stated that none of their husband's were to have access to the funds, despite her actions not being supported in law at the time.
Sealy died in 1813, and the firm continued to flourish until Eleanor's death in 1821, aged 88. On her death her manager, William Croggon, a distant relation, bought the factory, and Coade stone remained in use for at least a decade before the firm eventually closed in the 1840s.
All her life she protected the 'secret' of her stone's success. It was said its recipe went to the grave with her. However, recently Coadestone, a phenomenon of the Regency, had its recipe rediscovered and today a range of Coade sculpture can be found at new workshops in Wilton. The formula she used was: 10% grog, 5-10% of crushed flint, 5-10% fine quartz, 10% crushed soda lime glass and 60-70% of Ball clay which came from Dorset and Devon.
Her business acumen was so greatly admired that her obituary noticed appeared in The Gentleman's Magazine, Volume 91, December 1821.
November 18th at Camberwell in her 89th year, Mrs. Eleanor Coade, sole inventor and proprietor of an art which deserves considerable notice. In 1769 a burnt artificial stone manufactory was erected by Mrs. Coade at King's Arms Stairs, Narrow Wall, Lambeth. This manufactory has been carried on from that time to the present on a very extensive scale, being a property peculiar to itself of resisting the frost and consequently of retaining that sharpness in which it excels every kind of stone sculpture and even equals marble itself.
At the height of her success, Eleanor Coade bought her uncle's house in Lyme Regis as her personal retreat and holiday home. Many of the stone accents and features are made of Coade stone. The author John Fowles, who bought Belmont House in 1968 and lived there until his death, described her as 'that very rare thing, both an artist and a successful early woman industrialist'.