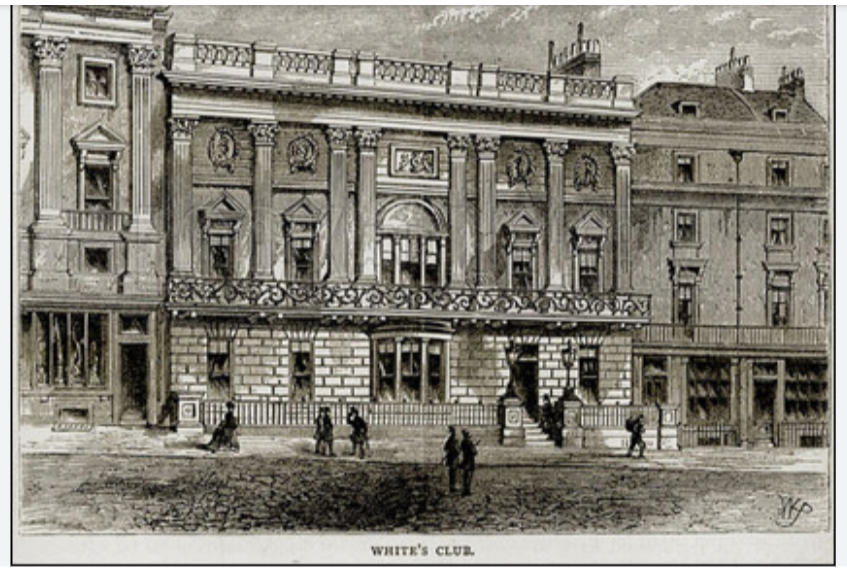 Throughout my reading and re-reading of Jane Austen's letters, I found only one notation that may, or may not, be a reference to one of the many London Gentlemen's Clubs in existence during the Regency period. As nearly as I could determine, the sentiment was penned in August 1814 in a letter to her sister Cassandra. Wrote Jane, "Henry at White's! Oh, what a Henry!" Following that, she says no more on the subject, nor does she enlarge upon it. But to exactly what occurrence she is referring, I haven't a clue as she goes on to speak of other things, and never again returns to the subject of White's. I speculated that perhaps some gentleman acquaintance of Jane's brother Henry, who resided in London, had invited him to dine at White's, and he had shocked his sister by accepting the invitation.
Believed to have been founded in 1698, White's Club is perhaps the oldest gentleman's club in London, and at the time it was called White's Chocolate House. From the beginning, it was principally a gaming Club. The play was mostly hazard and faro; and no member was to hold a faro Bank. At the time, the game of whist was considered comparatively harmless, so was of no account. However, professional gamblers, who lived principally by dice and cards, provided they were free from any accusations of cheating, that is, sought admission to White's in droves. Also considered a great supper-house, play was conducted both before and after supper and carried on to quite a late hour and involved excessive amounts. White's dues were considered high, but many a gentleman raked in a fortune at the gaming tables, where stakes were even higher. Young men were known to sign markers in the hope that their wealthy fathers would soon die so they could pay up. Beau Brummell boasted that he once won £20,000 in a single night of gambling at White's. Lord Carlisle was said to have lost £10,000 in one night, and was in debt to the house for the whole. At one point in a game, Lord Selwyn stood to win £50,000. Says Walpole: "Sir John Bland, of Kippax Park, who shot himself in 1755, gambled away his entire fortune at hazard. T'other night, [Bland] exceeded what was lost by the late Duke of Bedford, having at one period of the night, (though he later recovered the greater part of it,) lost two-and-thirty thousand pounds!"
In 1736, White's became a private club, it's politics being decidedly Tory. During the Regency, it was equally as famous for its Bow window, where Beau Brummell and Lord Alvanley flung insults at the fashionables who strolled by, as for its Betting Book, where the elite and bored placed bets on very nearly everything from births to deaths, marriages, horses races and politics. A stranger once passed out cold on the stoop and when he was carried into the house, wagers were taken as to whether the man was dead or alive!
In 1812, then owner John Martindale sold White's to George Raggett who claimed to have made a fortune sweeping the carpet after the last of the gamblers staggered home. "It is my custom to sweep the carpet after the gambling is over, and I generally find on the floor a few counters, by which I have made a decent fortune." Perhaps his boast was true as Raggett died wealthier than most of his club's members.
Drinking and play were more universally indulged in then than at the present time, and many men recalled the multiple bottles of port that accompanied his dinner. Women amongst the upper classes in those days were most notoriously neglected; except, perhaps, by romantic foreigners, who were the heroes of many a fashionable adventure that fed the gentlemen at their clubs with salacious scandal. How could it have been otherwise with husbands generally always away from home, spending their days in the hunting-field, or occupied with politics? Dinner parties, commencing at seven or eight, frequently did not break up before one in the morning. There were then four, and even five-bottle men; and the only thing that saved them was drinking very slowly, and out of very small glasses. Lord Eldon, and his brother, Lord Stowell, used to say that they had drunk more bad port than any two men in England, consequently after a long evening begun at a fashionable dinner party hosted by the wife of one or another of London's aristocratic gentlemen, who after escorting their wives home, reconvened at their club, and hours later, were understandably fit for nothing but bed.
In 1770, Walpole expressed his opinion on the matter to Lord Montagu: "There is a new Institution that begins, and if it proceeds, will make a considerable noise. It is a Club of both sexes, to be erected at Almack's, on the model of that of the men of White's. Mrs. Fitzroy, Lady Pembroke, Mrs. Meynell, Lady Molyneux, Miss Pelham, and Miss Lloyd, are the foundresses." A Mrs. Boscawen tells Mrs. Delany of this Club consisting of both lords and ladies who first met at a tavern, but subsequently, to satisfy Lady Pembroke's scruples, moved to a room at Almack's. "The ladies nominate and choose the gentlemen and vice versâ, so that no lady can exclude a lady, or gentleman a gentleman." Ladies Rochford, Harrington, and Holderness were black-balled, as was the Duchess of Bedford, who was subsequently admitted. Lord March and Brook Boothby, to their great astonishment, were black-balled by the ladies. Dinner was served there, and supper at eleven. Declared Mrs. Boscawen, the play will be deep and constant. Frenzy for play at this time was at its height. Said Mrs. Delaney, who was not entirely agreeable to the notion of gambling, "Some men make profit out of it, like Mr. Thynne, who has won this year so considerably that he has paid off all his debts, bought a house and furnished it, disposed of his horses, hounds, etc., and struck his name out of all expensive subscriptions. But what a horrid reflection it must be to an honest mind to build one's fortune on the ruin of others!" This new venture of a club for both sexes was not generally accepted or long-lived.
Another popular gentlemen's club of the period was Boodle's, which was chiefly frequented by country gentlemen. "Every Sir John belongs to Boodle's—as you may see, for, when a waiter comes into the room and says to some aged student of the Morning Herald, 'Sir John, your servant is come,' every head is mechanically thrown up in answer to the address."
Watier's Club was the great Macao gambling-house, also of a relatively short period. Mr. Thomas Raikes describes it as very genteel, adding that no one ever quarreled there. "The Club did not endure for twelve years altogether; the pace was too quick to last and it died a natural death in 1819. Among the members was Bligh, a notorious madman, of whom Mr. Raikes relates: "One evening at the Macao table, when the play was very deep, Brummell having lost a considerable stake, affected, in his farcical way, a very tragic air, and cried out, 'Waiter, bring me a flat candlestick and a pistol.' Upon which Bligh, who was sitting opposite to him, calmly produced two loaded pistols from his coat pocket, which he placed on the table, and said, "Mr. Brummell, if you are really desirous to put a period to your existence, I am extremely happy to offer you the means without troubling the waiter."
The Wyndham Club, partaking of the character of Arthur's and Boodle's was founded by Lord Nugent, its object being, as stated in Rule 1; to secure a convenient and agreeable place of meeting for a society of gentlemen, all connected with each other by a common bond of literary or personal acquaintance." Situated at No. 11 St. James's square, it was named after the mansion that had been the residence of William Wyndham, that gentleman being described as a model of the true gentleman, an accomplished scholar and mathematician. Writing of a visit Wyndham paid him, Dr. Johnson, said, "Such conversation I shall not have again till I come back to the regions of literature, and there Wyndham is 'inter stellas luna minores.'"
Says Captain Gronow, in his Anecdotes and Reminiscences, "The members of the Clubs in London were persons, almost without exception, belonging exclusively to the aristocratic world. Tradesmen, referring to bankers and merchants, had not then invaded White's, Boodle's, Brookes'; or Watier's, in Bolton-street, Piccadilly; which, with the Guards, Arthur's, and Grahams, were the only Clubs at the West End of the town. White's was then decidedly the most difficult of entry; its list of members comprised nearly all the noble names of Great Britain." Of London's Gentleman's Club, it was agreed amongst gentlemen that it was a vulgar error to regard a Club as the rich man's public-house as it bears no analogy to a public-house: it is as much the private property of its members as any ordinary dwelling-house is the property of the man who built it.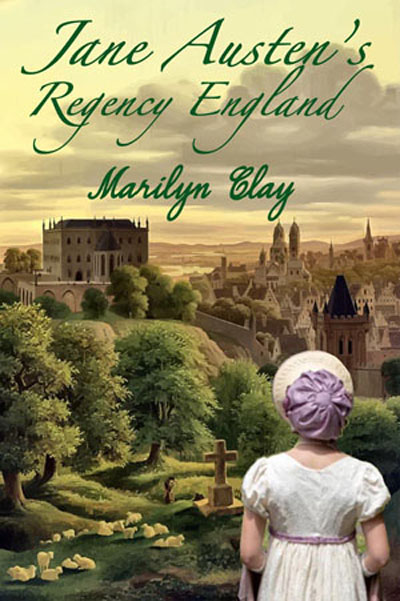 The above reflections regarding gentlemen's clubs was taken from a chapter in my new book titled Jane Austen's Regency England, which interweaves passages from the letters of the famed authoress as she lived out her life alongside the momentous events that occurred during the English Regency period. From the time of her birth until her death in 1817, Jane Austen managed to studiously pen her beloved novels even as she lived through the ever-present trauma and drama of the Napoleonic wars, the grievous loss of thousands of British soldiers on land and sea, the upheaval across the pond in the colonies, the angst of an English king gone mad, and the controversy surrounding the establishment of a Regency rule in England.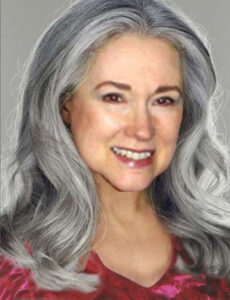 Jane Austen's Regency England by Marilyn Clay is now available in print, Ebook and audio from all major online retail booksellers. Find it in paperback or on Kindle here.