Hester Bateman (1708-1794)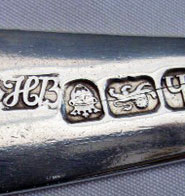 The mark of Hester Bateman registered in 1761 (1708–1794). Mrs. Bateman, a silversmith of household silverware in London, used her special initials along with the standard hallmarks; the crown signifying a tax is paid to the crown, a lion which identifies the type of metal (sterling silver) and the h, a "date letter" which notes the year of production.
By Louisa Cornell
Born Hester Needham in 1708 (perhaps 1709) in London
She married John Bateman (sometime between 1730-1732) He worked in silver and gold and his primary business was thought to be watch chains. Hester learned everything about the silversmith business from him that she could, but also studied the work of others.
Bateman left his business in its entirety to his wife when he died in 1760.
By 1761 she had registered her mark at Goldsmiths Hall in London.
By 1774 hers was one of the most successful shops in London.
Unlike other silversmiths she didn't specialize in one area. Her shop made a wide variety of tableware as well as inkwells, trophies, and religious items.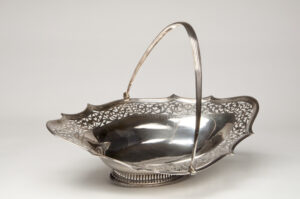 Her simple but elegant designs were popular among the new rising middle class. Her integration of the newest technology into production enabled her to charge lower prices for quality work.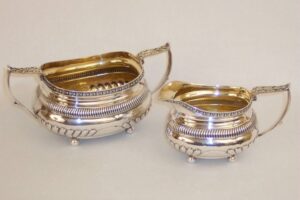 Her work was characterized by bright-cut engraving, beading around the edges, and piercing.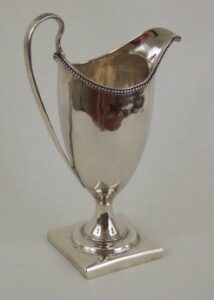 She retired in 1790 and turned her business over to her sons as her daughter, Letitia Clarke, had opened her own business as a jeweler and goldsmith.
Hester died in 1794. Her sons continued the business and it was passed down as a successful concern to her male and female descendants until it closed in 1843.
Hester Bateman is considered one of England's finest silversmiths, male or female. Pieces with her mark are highly prized (not to mention highly priced) today.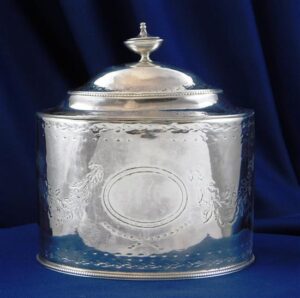 Her business acumen and willingness to experiment with new technology took a small silver shop and turned it into a thriving and profitable concern able to support her family and a number of employees as well.
Not bad for a woman who learned her craft in spite of no formal education whilst married to a man ill with tuberculosis and raising six children.