A good road trip story, no matter the era, usually includes at least one good vehicle breakdown and Between Duty and the Devil's Desires is no exception. Add the elements of roads not as well-maintained as the Great North Road, mud, snow, and sleeting rain, and it is little wonder the company sought the security and warmth of a coaching inn once they'd pushed their coach out of a ditch or two.
Excerpt from: Between Duty and the Devil's Desires
"I hear and obey," Lord Hadley announced as he strolled into her chamber as if it were his own. She suspected he walked into every room in the same fashion. Just as he took up all the air in any room he entered.
"When have you ever obeyed a woman, my lord?" she asked, checking the knot she'd tied in the belt of her robe, for some odd reason.
"Depends upon the woman. And what she asks me to do." He glanced around her chamber before his heated gaze came to rest on her.
He was followed by several of the inn's male servants. They pulled a table from the corner of the chamber and set it before the fireplace. A substantial fire burned therein, eliminating every bit of chill in the room. In moments they had the table set for two and had filled it with covered dishes of food. Once they placed the two fireside chairs on either side of the table and Elegy had taken her seat, the servants filed out, each one stopping to receive a not-so-surreptitious vale from Lord Hadley. Whilst his attention was diverted, she snatched the toweling from her hair and tied up the unbraided, barely brushed bulk of it, haphazardly, with the piece of green ribbon she found in the pocket of her robe. She wished she might see the mirror, but perhaps it was for the best she could not.
"You know this is completely improper, my lord," Elegy said as she placed the serviette in her lap and lifted the lid on a tureen of thick beef stew.
"Will you force me to fill my plate and take my meal outside like some groom at a ball? I have had my fill of standing about in the snow and the mud for today at least." He stood next to the chair opposite her, looking more than criminal handsome in black breeches, clean but scuffed boots, and white shirt topped with a black wool banyan. He'd shaved and his freshly washed hair hung past his shoulders.
To allow him to stay was playing with fire. Once she received her payment and left Braemar Hall forever there would be no opportunities for impropriety. Her plans demanded she live the life of a woman beyond reproach. And Elegy was so weary. She did not remember a time she had not conducted herself with the strictest attention to what was proper, what was expected, what she must do to maintain her place.
"Sit down, Lord Hadley," she finally said. "I have never been fond of dining alone."
This scene takes place at The Marlborough Arms in the village of Woodstock in the Cotswolds.
The industrious and well-informed Miss Perkins makes an excellent choice in The Marlborough Arms, which was established as a coaching inn in 1469 when it was called the George Inne. The village of Woodstock appears in the Doomsday Book in 1086 and was given a royal charter in 1179 by Henry II. Which was no accident as the village grew around the Royal Hunting Lodge which is now Blenheim Palace.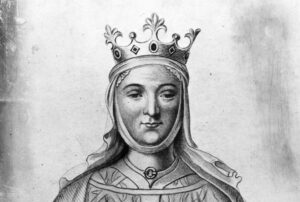 The building which would eventually become the George Inne has a royal connection as well. It was originally built as the residence for Henry II's mistress, Roseamunde Clifford. Seems Henry's wife objected to the woman staying at the hunting lodge. A separate house was a wise decision on Henry's part as his wife, Eleanor of Aquitaine, was not known as a forgiving or gentle soul. Why would she be? It takes one badass woman to marry and bury two kings – Louis VII of France and Henry II of England.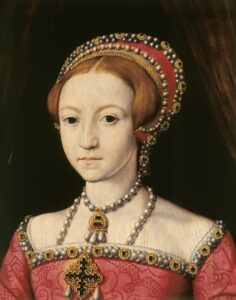 Princess Elizabeth, who would later become Queen Elizabeth I,  frequently visited the establishment, which in her time had already become the George Inne. She was known to sneak out of her prison at the Royal Hunting Lodge where she had been placed under house arrest by her sister Mary I in order to have a little fun.
The George Inne became The Marlborough Arms some time after the Battle of Blenheim in 1704. It was at this point it became one of the busiest coaching inns in the area. Its proximity to Blenheim and to the scenic Cotswolds made it a hub for travel both for trade and for those who sought to take holidays outside of London. The larger door in the image below leads to the inn yard where coaches pulled in to change horses and / or to pick up or deposit passengers. 
Much of the inn is as it was in the 15th century. One interesting aspect is the fireplace on the main floor.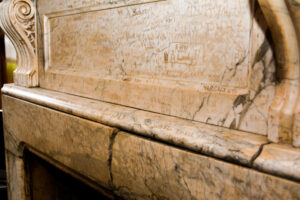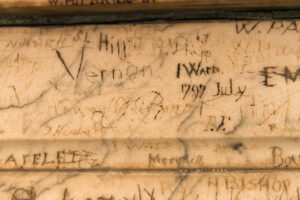 The mantel is covered in graffiti, much of it dated as far back as the 17th century. Some things never change!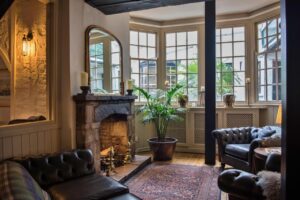 However, the comfort and views make the public rooms much as they might have been during Elegy and Devlin's visit.
No history of hauntings at The Marlborough Arms. Perhaps the custom was so busy there no chance for murder or mayhem occurred. However, just a short stroll away is the MacDonald Bear Hotel, a 13th century coaching inn (I told you Woodstock was a busy hub for travelers!)
The MacDonald Bear has at least two resident ghosts. You can learn more about them here:
https://www.spookyisles.com/macdonald-bear-hotel-woodstock/
My next post will be on the third stop on Elegy and Devlin's journey – The Howard Arms in Ilmington, Warwickshire. Should you wish to go along on their journey you will find Between Duty and the Devil's Desires at the following links:
https://www.thalia.de/shop/home/artikeldetails/ID153031268.html
https://www.kobo.com/us/en/ebook/between-duty-and-the-devil-s-desires
https://www.barnesandnoble.com/w/between-duty-and-the-devils-desires-louisa-cornell/1140132068;jsessionid=DBEC4D334169240B3FB30BF395CDE115.prodny_store01-atgap03?ean=2940164546465
https://www.scribd.com/book/523104517/Between-Duty-and-the-Devil-s-Desires-A-Legend-to-Love-5
https://books.apple.com/us/book/id1584440038
https://www.amazon.com/s?k=Between+Duty+and+the+Devil%27s+Desires&ref=nb_sb_noss_2
A determined governess, a reluctant bridegroom, and a winter's journey from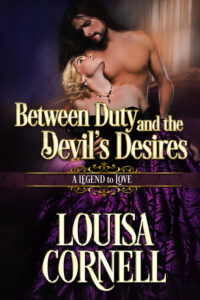 London to Cheshire…Reputed to be the most exacting governess in England, Miss Elegy Perkins has cared for Lady Margaret, the spoiled daughter of the Marquess of Braemar, for twelve interminable years. Then she receives a life-changing offer that would bring her a prize of 5000 pounds and the chance at financial freedom. All she must do is find and escort Lady Margaret's reluctant bridegroom to his wedding. A simple enough task, until she meets the bridegroom in question.Major Lord Devlin St. George has very little control of his life. For the past sixteen months he has done his utmost to avoid contracts, signed when he was a child, to leg-shackle him to the daughter of a wealthy marquess. Evading the efforts of his betrothed's brothers to drag him to the altar, Devlin has successfully missed three wedding dates so far. The only thing that stands between him and missing a fourth is a pistol-wielding, strait-laced governess. A lady who is far more woman than she dares reveal.