By
Louisa Cornell
Henry Nock, Gunmaker
Elm Street, Mount Pleasant, Clerkenwell, London
No. 10 Ludgate Street – Shop
No. 9 Castle Alley, White Chapel – Manufactory
Established 1768
Henry Nock learned his trade as a gunsmith in Birmingham in what was known as the Gun Quarter, an area of Birmingham known for years as the world's center for gun making and munitions manufacturing. At the age of 27 he made his way to London and in 1768 opened up a gunsmith shop.
In addition to being a skilled craftsman Nock was a pioneer in the realm of firearms and has to his credit many innovations and inventions. One such patented invention would impact the gun trade and be adopted as a standard within the industry. It was a removable octagonal barrel that facilitated much improved maintenance. This development would come to be known as 'Knoxform' and is described in the patent application as a process to: "…take the Barrell from the lock, which renders the Barrell exceedingly easy to be cleaned, and there is no obstruction of the Breech Pin as in other Guns."
The making of guns and gun locks were not Nock's only business. He knew that diversification was paramount to a successful business. The first recording of this manufacture of edged weapons appears in the Board of Ordnance records for December 20th 1777 where it is recorded that he is advanced 200 pounds to provide bayonets, which suggests a rather large order.
Henry Nock was one of the finest and most influential arms makers of his time. His contribution cannot be understated, and he produced some of the very finest and most beautiful guns of that era.


An exquisite example of Henry Nock's work. This circa 1780 'seven' barreled volley gun was part of an order of 500 such weapons made and supplied by Nock during the 1780's to the British military at a cost of £13 each.
In 1784 Nock became a Freeman of the Gunmakers Company. In 1789 he was appointed gunmaker-in-ordinary to King George III , largely as a result of his patented breech for hunting guns and other inventions.  In 1802 Nock became Master of the Gunmakers Company. He made weapons covering the whole field from pistols to muskets. The great variety is perhaps illustrated by his coach blunderbuss which, like naval pistols, had a more corrosion resistant brass barrel. Such weapons were intended to be used at short range and did not take a large enough charge to require iron barrels. Nock continued to innovate until his death – late in life he was making breech loading muskets
Coach Blunderbuss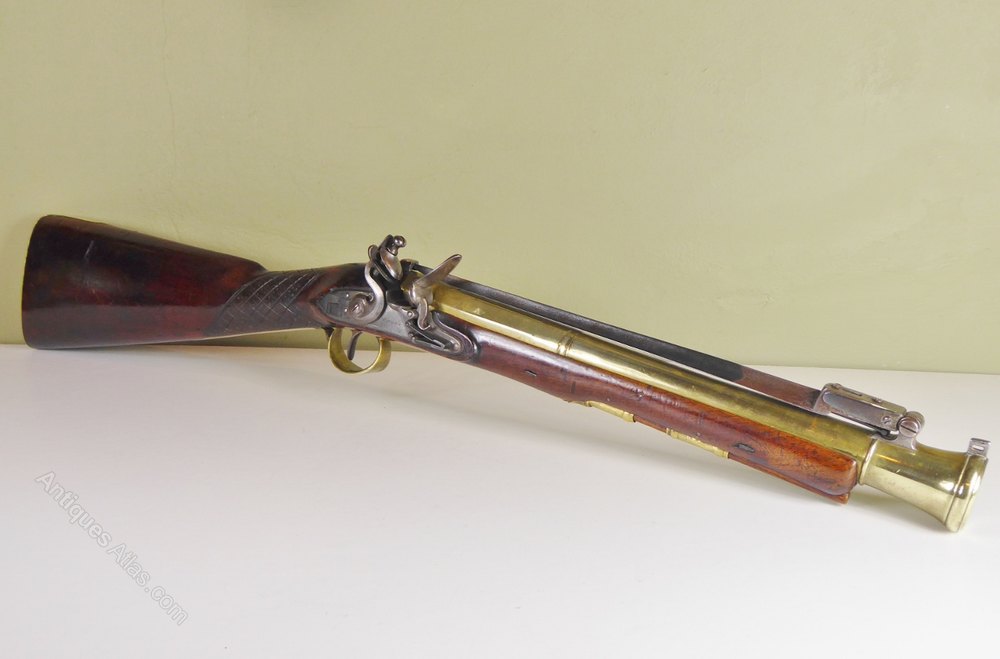 The brass barrel with a flared and ringed muzzle, tapering inward and backward to a ring fronted octagonal staging. The barrel topped with a spring release triangular and concave sided bayonet. The steel flint lock mechanism engraved 'H NOCK' for Henry Nock, 1741 – 1804. The underside with a ramrod held within ringed brass pipes, the trigger guard with floral engraving, finished to the end with a flower head finial. The walnut stock with a hatched hand hold, and brass butt plate.