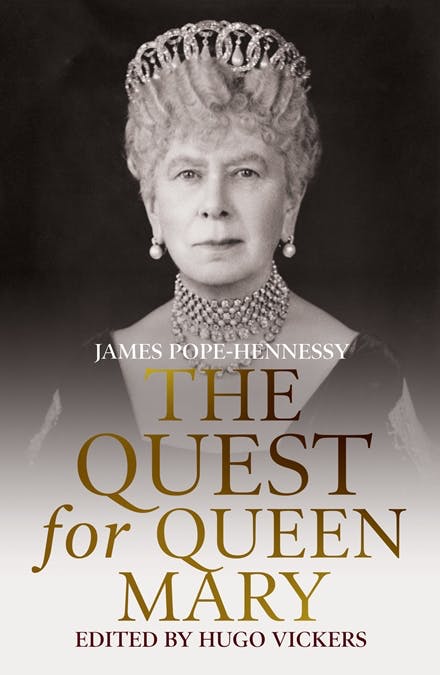 Recently, I was reading a royal biography and, as so often happens, it led me to another title, The Quest for Queen Mary, by James Pope-Hennessy (2018). The mention of this book described how screamingly funny the Queen Mary book was in parts. Of course, I went straight to Amazon Books online and searched for it, when I found other, similar quotes on the book jacket:
"One of this year's funniest and most eccentric books." Mail on Sunday.
". . . Arguably the most riotously funny volume published this year." The Sunday Times.
"Illuminating, intriguing and boundlessly entertaining." Country Life
Naturally, I clicked the buy now button.
The Quest for Queen Mary is not a biography (find that here), but a compilation of the notes Pope-Hennessy wrote up regarding the people he met and the interviews he conducted while researching the biography, the whole edited by Hugo Vickers.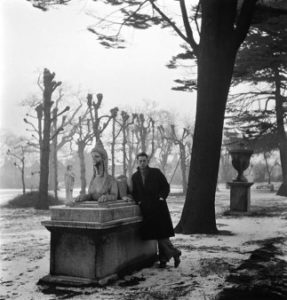 I was familiar with P-H (Pope-Hennessy) through the various inter-war diaries, letters and biographies I had read. He was a mainstay of the Bright Young Things set, socializing with the likes of the Mitfords, Cecil Beaton, Lord Berners, Rex Whistler, Duff and Diana Cooper, et al. For the life of me, I couldn't recall that anyone had ever said that P-H had been particularly funny.
At one time, Richard James Arthur Pope-Hennessy had been editor of The Spectator. He was also a travel writer and a biographer whose book on Lord Crewe led to his being commissioned by the Queen in 1955 to write the biography of Queen Mary.  His brother was Sir John Pope-Hennessy, who had served as the Director of both the V&A and British Museums.
Friends did describe P-H as being two different people inhabiting one body. He could be a brilliant and talented work horse of a writer, but he was also known to have a darker, somewhat brooding side. James Lees-Milne once wrote of Pope-Hennessy that 'the devil got a firm grip of him in his twenties and early thirties.'  He spent the money of older women whilst frankly discussing his homosexual life to them.
At one time, P-H had been in a relationship with Harold Nicolson, the former diplomat, writer and MP, and had also once shared a flat with the disgraced spy, Guy Burgess. His friends knew that he often sought the company of shady individuals and on occasion P-H paid for the services of 'rent boys,' one of whom lived at P-H's flat at the time that newspapers reported that P-H had received $150,000 to write a book about Sir Noel Coward (1974). Believing that the money was in the flat, the rent boy recruited two friends and the trio bound P-H, who was then 57, and viciously beat him. P-H's valet, Leslie (Walter) Smith, 25, returned to the property during the course of the attack and was stabbed. He managed to make it out into the street and summon help. Smith survived, Pope-Hennessy did not.
What makes The Quest for Queen Mary funny are P-H's wonderfully drawn descriptions of the places he visited and the people he interviewed. His razor sharp perceptions and eye for both detail and the absurd all contribute to the laugh out loud moments in his book.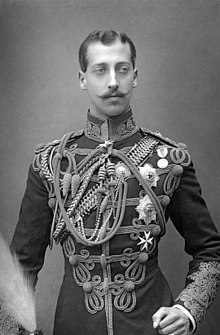 Regarding Sandringham – Across the head of the main stairs is situated a truly sinister warren of small rooms . . . You go through and down two or three steps in a very narrow carpeted passage; the first door on the left is where the Duke of Clarence died. This dim and cheerless hole is surprisingly small: opposite the door a window, to the right of the door a fire-place and immediately on the r-hand wall the brass bedstead, so that you could touch the mantlepiece with your hand if lying on the bed. . . How 14 people, including the (rather fat) Duchess of Teck crammed into this room on the morning of 14 January 1892 foxes me completely . . . To sum up: this is a hideous house with a horrible atmosphere in parts, and in others no atmosphere at all. It is like a vast morgue . . . .
Pope-Hennessy related how he'd told Sir Owen Morshead (Royal Librarian) about being introduced (to Princess Alice, Countess of Athlone) as Mr. Poke-Henderson. Sir Owen duly addressed his next letter: "My dear Poke-Henderson . . . " and told him that he had been called every possible name, including "Alan Horsehead."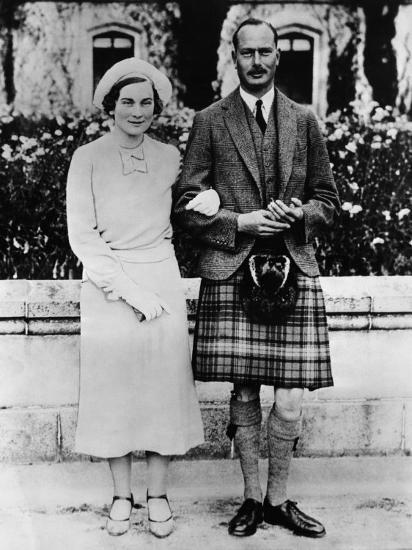 P-H was invited to stay with the Duke and Duchess of Gloucester at Bramwell in order to conduct his interviews with them – I returned to the drawing room, having seen my very comfortable room, and observed with pleasure a small, framed notice on the dressing table . . . 'Guests are particularly requested not to offer gratuities to the indoor or outdoor staff as they are NOT allowed to accept them.' I sat down, waiting for the next episode and looking at the drink tray, and smoking. There was a huge, high, Coromandel screen with six folds hiding the door, so that it was rather exciting, like a good play with new characters, waiting to see who was going to enter next. There was a good deal of heavy breathing and heavy martial shuffle, and the Duke of Gloucester, eyes bulging and his hair standing on end from the wind, entered, wearing corduroys, a jersey, a Guards tie and a tweed coat. . . he veered off like a tacking sailing ship towards the drink tray and began delicately dropping angostura bitters out of a tiny silver-topped bottle into a large glass. He then took the gin bottle out of the three bottle canister on the table and said: "Haven't you had a drink?" . . . He struggled to get the ice, which was a half moon shape I had never seen anywhere before, out of the silver ice pincers. "Oh, damn." There was a long silence while we stood by the window and looked at the floor.
Staying with the Duke and Duchess of Beaufort at Badminton – P-H joined the Duke and Duchess at the breakfast table on the morning after his arrival. The Duchess was busy giving the dogs their porridge out of plastic saucers coloured pink and pale green. They related how when Lord Digby stayed for three days during the Badminton Horse Trials, he had eaten the dogs' porridge by mistake one morning and none of them knew how to break it to him, so he went on doing it throughout his stay.
Lady Reid, Maid of Honour to Queen Victoria and widow of James Reid, Queen Victoria's doctor, told P-H how as a new Maid of Honour, she accompanied Queen Victoria while she was out for a drive at Osborne – Miss Baring (as she was then) trotted beside the pony-carriage. These were the only times one was alone with her, and could speak of anything, but it was all rather breathless, 'keepin' up with the pony.' Her first real outing with the Queen was soon after her arrival for first duty. Miss Phipps explained to her that the Queen liked to distribute her Christmas presents herself at Osborne, and off they set in a great high royal carriage, the Queen and Miss Phipps facing the horses, Miss Baring with her back to them and a pile of presents beside her. At the first cottage a woman came out and stood on the steps of the carriage ('poor woman it was agonizing for her to hold on'); Miss Baring took the appropriate parcel and handed it to the Queen, saying, "It's a rug, your Majesty."
The Queen said nothing and turned to Miss Phipps. "What an odd thing to say, a rug, a r-r-r-rug! I have never heard it called that before. A rug is something which one stands on. It can be called a plaid, or a shawl, or even a wrap. But not a rug. And Susan calls it a r-r-r-rug. I have heard it called a plaid or a wrap, but never a rug. This monologue went on for several minutes, over and over again while the woman was clinging to the steps; and Miss Baring, overcome by it all, laughed and laughed till she nearly died.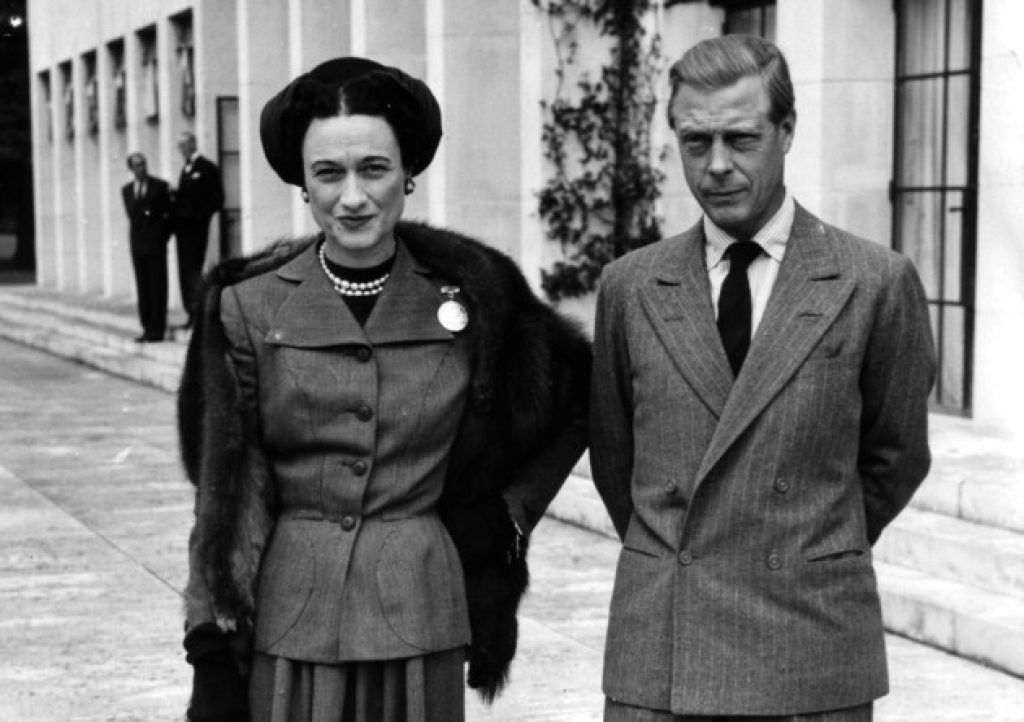 About the Duke and Duchess of Windsor, with whom P-H stayed twice at their house in France while conducting interviews – The Duke of Windsor is, on first sight, much less small than I had been led to believe; he is not at all a manikin, but a well-proportioned human being. . . I was soon startled to find that, except for occasionally repeating a complete story (which the Duchess stops when she can), he is not only the one member of the Royal Family for whom one needs to make no allowances whatever, but that he is exceedingly intelligent, original, liberal minded and quite capable of either leading a conversation or taking a constructive part in one. He is also one of the most considerate men I have ever met of his generation. Like the Duchess, he is perhaps too open and trusting towards others; or else he was determined to be specially helpful to me.
On the Duchess of Windsor – This is one of the very oddest women I have ever seen . . . Like her house, she is tremendously American, and specifically Southern – it was like being back in Montgomery, Alabama, without the tree moss. I should therefore be tempted to classify her simply as An American Woman par excellence, were it not for the suspicion that she is not a woman at all. She is, to look at, phenomenal. She is flat and angular, and could have been designed for a medieval playing card. The shoulders are small and high; the head very, very large, almost monumental; the expression is either anticipatory (signalling to one, 'I know this is going to be loads of fun, don't yew?) or appreciative – the great giglamp smile, the wide, wide open eyes, which are so very large and pale and veined, the painted lips and the cannibal teeth. . .
There's royalty galore in this book, on both sides of the Channel, and they are infinitely amusing whether being interviewed or being spoken about by the interviewee. If you're a fan of royalty, or Queen Mary or historic houses or the period in general, I highly recommend this book.
Oddly, no one P-H interviewed once mentioned Queen Mary's alleged habit of pinching things from the homes she visited.