When Louisa and I visited the Victoria & Albert Museum in May, I saw the item above, labeled as being a "Detector Lock," which allowed its owner to see if anyone had opened the lock in their absence. I had never seen one before, or knew that such a lock existed, so I did some further research. Here's the lock's description from the V&A website:
British Galleries: By 1700 British locksmiths were famous for their technical and decorative skills. Cosimo III, Grand Duke of Tuscany, probably ordered this lock when he visited England in 1669. It has two dials that indicate how often it has been opened; one is a dummy, to provide extra security.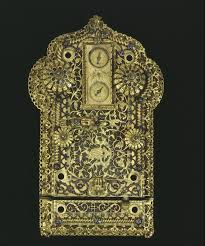 Object Type
This highly ornate 'detector' lock was intended for the door of a private apartment or an office in a royal palace. Such locks were often carried by their owners when travelling and used in different residences.
Historical Association
The lock bears the arms of Cosimo III de' Medici. He visited London in 1669, the year before he became Grand Duke of Tuscany, and possibly ordered this lock on that occasion. The maker, Richard Bickford, was the most famous locksmith in London and a visit to his shop would have been on the itinerary of an important visitor.
Maker
The lock is signed on the rim by Richard Bickford. He was one of a family of locksmiths who worked for wealthy patrons. A few years earlier the Bickfords had made a jewel casket for Queen Mary, also displayed in the British Galleries.
Design & Materials
The ornament on this lock is similar to other fine metalwork by the Bickfords. It consists of finely chiselled, pierced and engraved gilt brass, mounted above panels of blued steel which provide a vivid and brilliant colour contrast.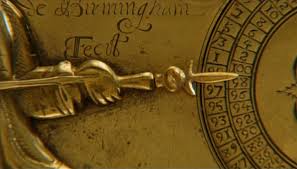 Above is another, more elaborate example of a Detector Lock in the V&A collections, created by British locksmith John Wilkes around 1680. You can watch a video that explains how it works here.