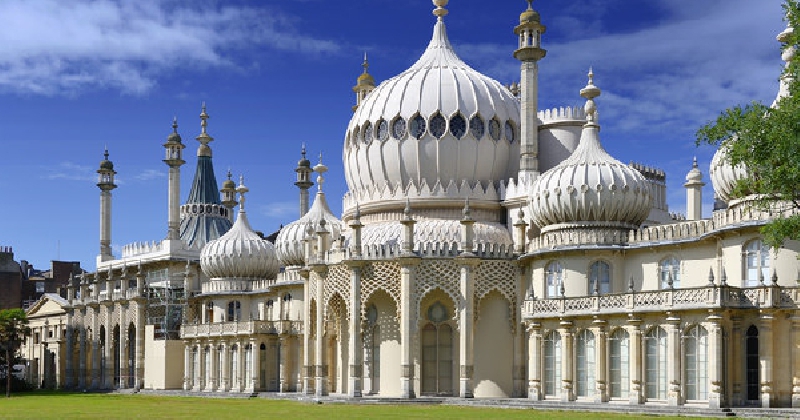 One of the most iconic buildings in England, Brighton's Royal Pavilion has come to symbolize the decadence of the Regency Period. Built as George IV's pleasure palace by the sea, the Pavilion continues to astonish visitors, just as it did in the 19th century. Even the typically unflappable Duke of Wellington was taken aback by the Pavilion's excesses and the Prince's flamboyant style of interior decor. 
Princess Lieven recorded the Duke's reaction upon first seeing the Pavilion in a letter to her husband written from Brighton on January 26, 1822:
"I wish you were here to laugh. You cannot imagine how astonished the Duke of Wellington is. He had not been here before, and I thoroughly enjoy noting the kind of remark and the kind of surprise that the whole household evokes in a new-comer. I do not believe that, since the days of Heliogabalus, there have been such magnificence and such luxury. There is something effeminate in it which is disgusting. One spends the evening half-lying on cushions; the lights are dazzling; there are perfumes, music, liquers – "Devil take me, I think I must have got into bad company." You can guess who said that, and the tone in which it was said. . . . " 
After the death of the Prince Regent, his brother, King William IV, and later Queen Victoria, both visited the Pavilion. However, by Queen Victoria's time, the town of Brighton had become much more developed and the population increased accordingly. Queen Victoria felt that the property could no longer afford herself and her family the seclusion they required and she sold the building to the Corporation of Brighton in 1850.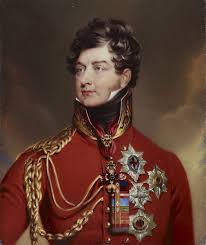 Today, the Royal Pavilion has been restored to it's former Regency glory and is still astonishing the many visitors who arrive daily to experience the grandeur first-hand. Number One London Tours invites you to join us for a tour of the Royal Pavilion as part of the itinerary for our 2019 Queen Victoria Tour or our 2020 Regency Tour.
The video below offers the most comprehensive tour of the Pavilion's interiors I've seen and it also includes a good overview of it's history, so I've chosen to include it despite the interpreter's very animated delivery. Final bit of trivia – Ironically, all of the kitchen copper-ware you'll see in the video was once the property of the first Duke of Wellington and bears his ducal crest. It was transferred to the Pavilion in the 1950s, when Apsley House was placed under the control of English Heritage.