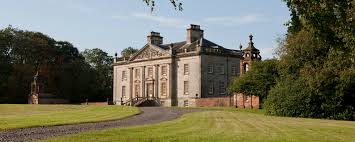 It won't be long now before the start of Number One London's Scottish Writer's Retreat. Our group will be staying at Auchinleck House, family seat of James Boswell's family, above. A fitting setting, really, as he and Dr. Johnson were known to have stayed in the house together several times.
But "retreat" may be a bit of a misnomer, as our group will be doing much more than staying in to write; we'll be touring the surrounding area, visiting nearby estates, museums and places of historic interest. Perhaps we should rename it "The Tour to Inspire Writers?" One of the most inspiring items on the Retreat itinerary will be our visit across the water to the wildly romantic Isle of Arran, as seen in the video below.
While our September Retreat has been sold out for quite some time, we've added another for 2019 – details can be found here.