BY LOUISA CORNELL
My very first Regency Romance for Scarsdale Publishing goes live on May 22nd ! I am thrilled to be writing a book in Scarsdale's popular and highly successful Marriage Maker series.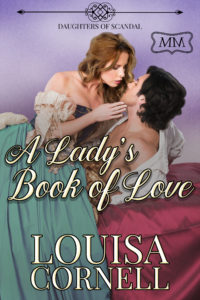 Sir Stirling James, the man Society calls the Marriage Maker, is back this Season to work his magic at uniting couples—and never has his talent been more tested.
Miss Emmaline Peachum needs a hero. She'll settle for a husband, however, if he can rescue her reputation from further scandal and save her beloved library from the bailiff and his henchmen. But what sort of gentleman will agree to marry the daughter of England's most notorious con artist?
After eighteen years in His Majesty's Navy, Captain Lord Arthur Farnsworth wants to retire to the life of a country gentleman. But first he must discharge his final duty to his men and retrieve the money that was swindled from them.
Sir Stirling James offers the captain the perfect opportunity to find the missing funds. Arthur will marry the bookish hoyden whose father cheated his men of their last farthing and seduce her into telling him where the money can be found.
The problem with this plan lies with the defiant, beautiful, and wickedly witty Miss Emmaline Peachum, who must have inherited her father's larcenous tendencies. While Captain Farnsworth is intent on retribution, she is stealing his heart.
Lotteries in Regency England
A Lottery is a taxation Upon all the fools in creation;
And Heav'n be prais'd It is easily rais'd. . . The Lottery
Henry Fielding
In writing Stealing Minerva I had to do a bit of research on lotteries in early England. My heroine's father is a con artist who swindles thousands of pounds from citizens of every walk of life by setting up a fake lottery and absconding with the money.
There were state lotteries in England as early as 1690. They were established and run by the Bank of England. They were used to raise money for good causes, government projects, the British Museum at Montague House, and even helped finance the war against Napoleon.
Lottery tickets were quite expensive. In addition to individuals, boroughs bought lottery tickets in order to raise money for the feeding and clothing of poor children. The Church had no issues with clerics gambling on lottery tickets to raise money for their parishes. People who could not afford to buy a full lottery ticket pooled their money and bought shares in a single ticket, sometimes advertising for partners in the newspaper.

Here is a sample of what a winning ticket might be worth.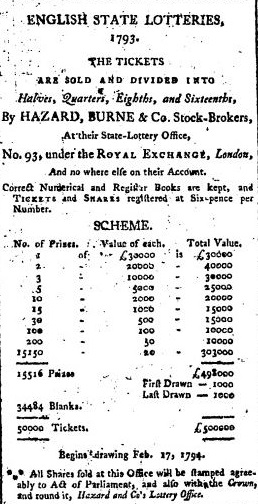 Then, as now, a winning lottery ticket might change a person's life forever. In 1798, four people on servants' wages won 20,000 pounds (a value of 1.2 million pounds today!) The lucky winners were a female servant from Holborn, a servant of the Duke of Roxburgh, a keeper of a fruit stall and a vegetable carrier from Covent Garden.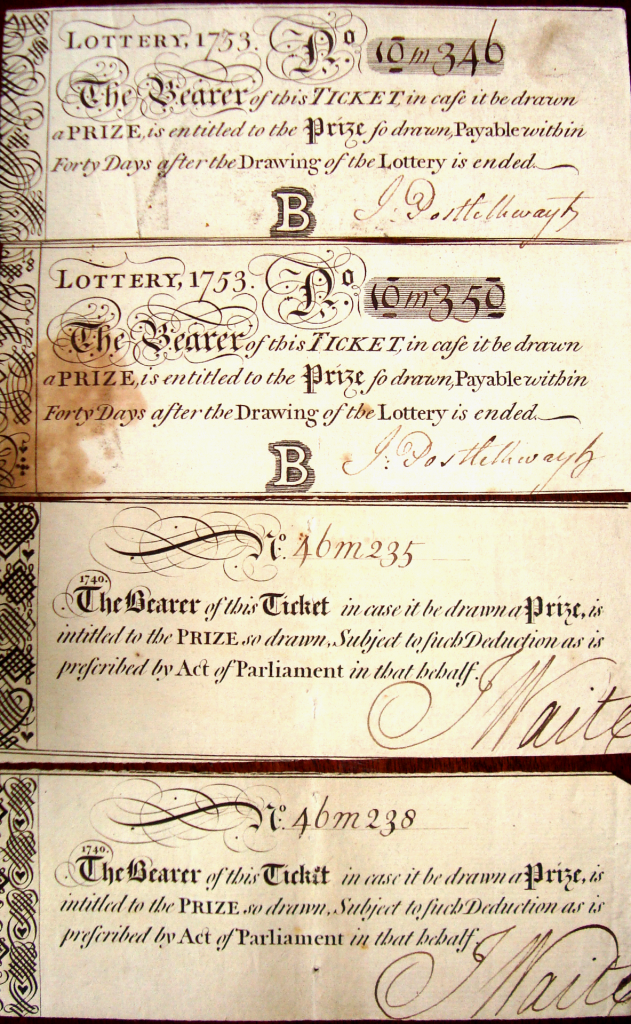 Most lottery tickets were winners of at least the price of the ticket. However, every fourth or so ticket might be a blank – a losing ticket. Forward thinking institutions came up with insurance programs for lottery players, a way to insure one received at least the value of their ticket back.
As today, lottery ticket drawings were public events, although not nearly as rowdy and glamorous. They were public in order to display the event as fair and aboveboard.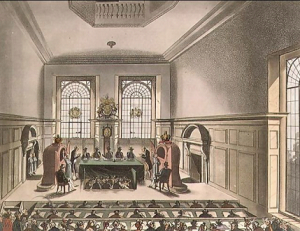 In spite of this there were a number of lottery scandals and scams during the Georgian / Regency era. To find out how one such scam worked check out my novella A Lady's Book of Love ! It has been up for preorder and goes live on Amazon TODAY !!
https://www.amazon.com/dp/B07C6QSHJF/ref=sr_1_1?s=digital-text&ie=UTF8&qid=1523840315&sr=1-1&keywords=A+Lady%27s+Book+of+Love+by+Louisa+Cornell
EXCERPT :
"You don't strike me as the sort of woman to surrender so easily."
"Some men think women are made for surrender. That we seek it so as not to have the burden of thinking or making our own decisions."
"I am not one of those men."
She snorted. "I am almost persuaded." Her fingers ran along the spines of the books. He nearly sensed her touch on his skin. "Almost."
"I don't believe it is in a woman's nature to surrender. It is something she is taught or has beaten into her. The one who maintains her true nature will fight long past a single hope of winning. And when life forces her to surrender, she despises herself for it. The only person she despises more is the man who has forced her to submit to that state so completely counter to her nature."
She turned to face him, her back pressed against the shelves, a worn leather volume gripped tightly in her hands. "What would a man like you know of surrender?" She peered up at him, her eyes all too cynical and discerning to suit him.
His mind froze. His ability to dissemble fled, so he gave her the truth. "Far more than I care to admit, Miss Peachum. I cannot recommend it."
"You? In war?" She gave him a subtle smile that threatened to take his breath away. "In love perhaps?"
"In life."
For more historical romance by Louisa Cornell check out her Amazon Author page !
https://www.amazon.com/Louisa-Cornell/e/B00PYZQOA6/ref=dp_byline_cont_ebooks_1
And for announcements about future books join Louisa's Facebook Author page !
https://www.facebook.com/RegencyWriterLouisaCornell
Check out the rest of the books in the Marriage Maker Series !