by Victoria Hinshaw
This is how I felt for almost the entire 2017 Number One London Country House Tour. I love visiting English Stately Homes and this Tour offered a stellar variety of periods, architectural styles, and decorative arts. Plus, our group was remarkably compatible and full of historical curiosity. We had great food, accommodating drivers, fun hotels, etc. etc. etc.  Only thing I wished for was more energy!!!
See how our first hotel's wall recognized our goals!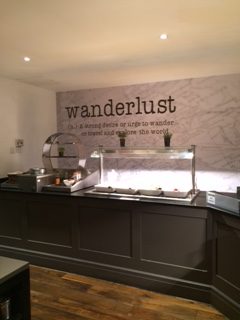 Our first stop was one I had been eagerly anticipating for several years.  Wentworth Woodhouse has only recently opened to the public. As you  can see from the pictures of the south facade, you have to get back a long distance to photograph the entire house, and this is only half of it.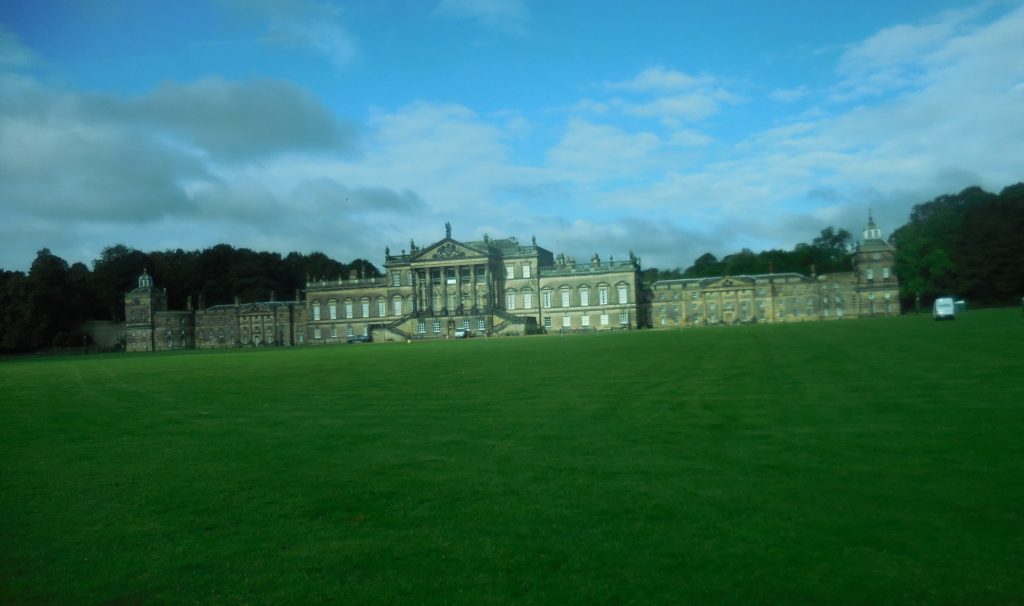 Said to be the largest private residence in Europe, Wentworth-Woodhouse in fact is two houses joined. The earlier west-facing house was begun by the 1st Marquess of Rockingham in the 1720's in mellow red brick in the baroque style. A few years later, the same Marquess chose to build an even larger house, the east facade, constructed of sober grey stone in the Palladian style.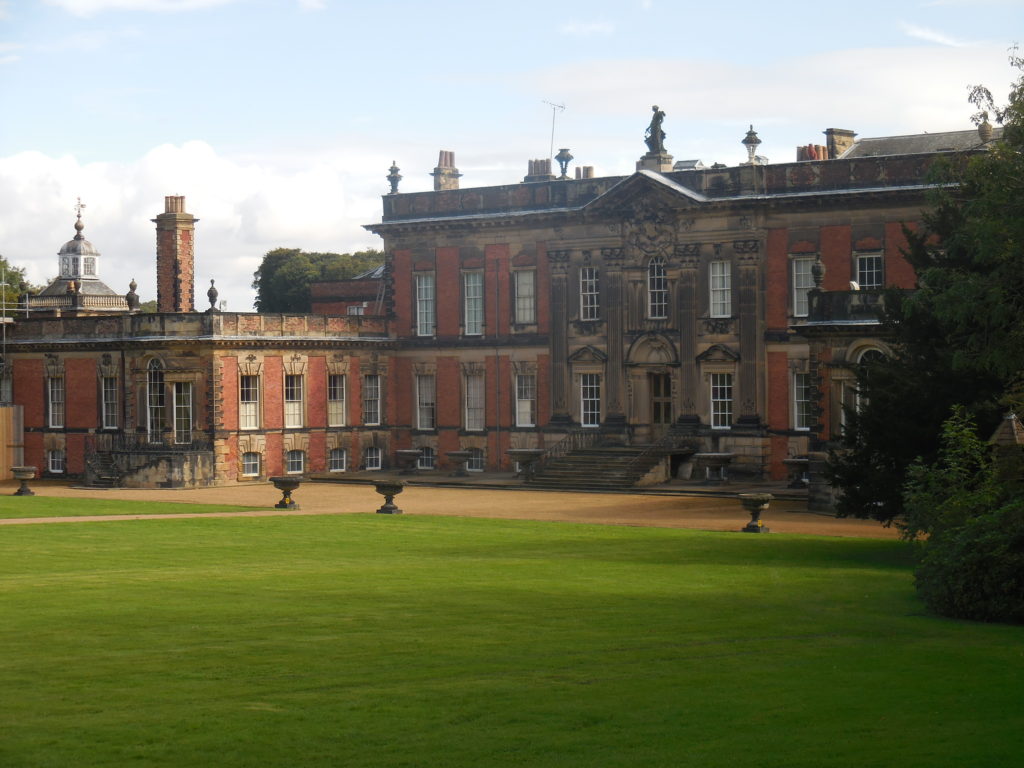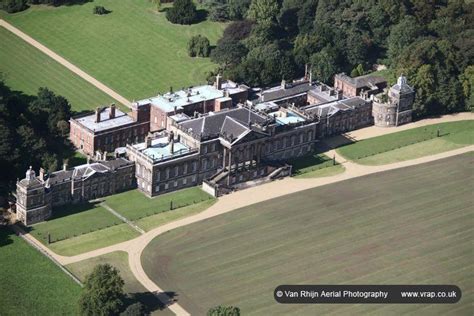 Recently WW, as I will refer going forward to Wentworth Woodhouse to save my fingers, has been seen in several films and on television.  In Episode One of Season Two of Victoria, the scenes of the royal couple reviewing the regiment were staged in front of WW.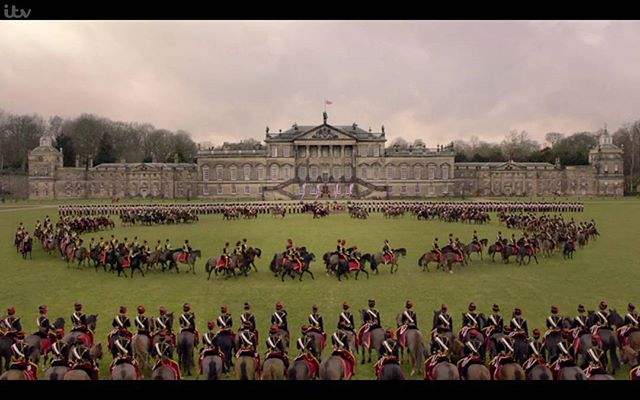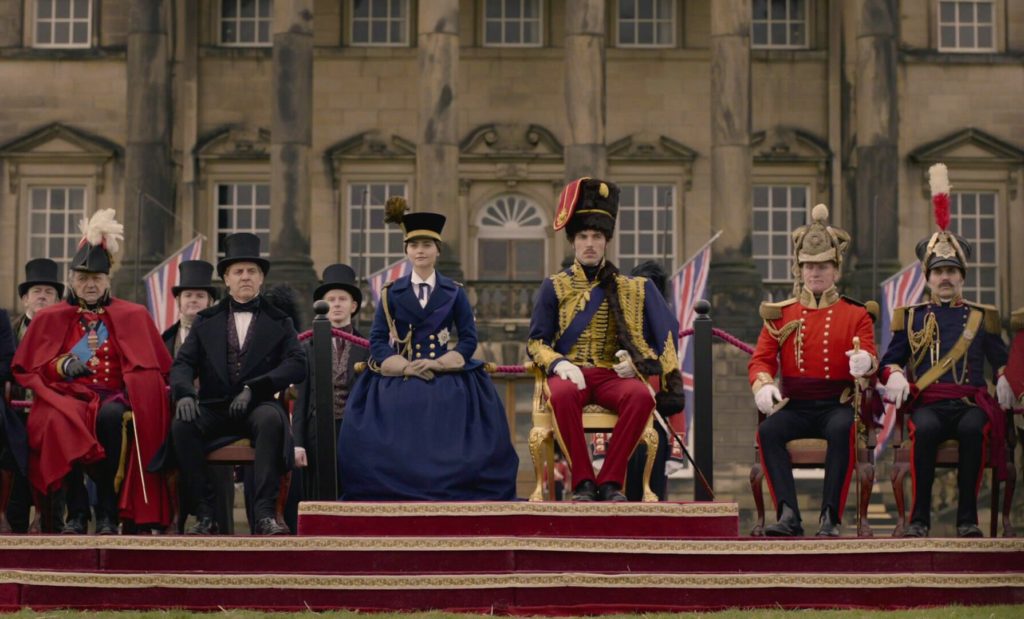 I will relate the full story of WW soon, and a long complicated tale it is.  For the time being, just know that touring it was fascinating. Recently, the estate has been acquired by a Preservation Trust after many years as a school and then standing empty and abandoned for some time. Fortunately, the Trust will preserve and restore the house and the gardens.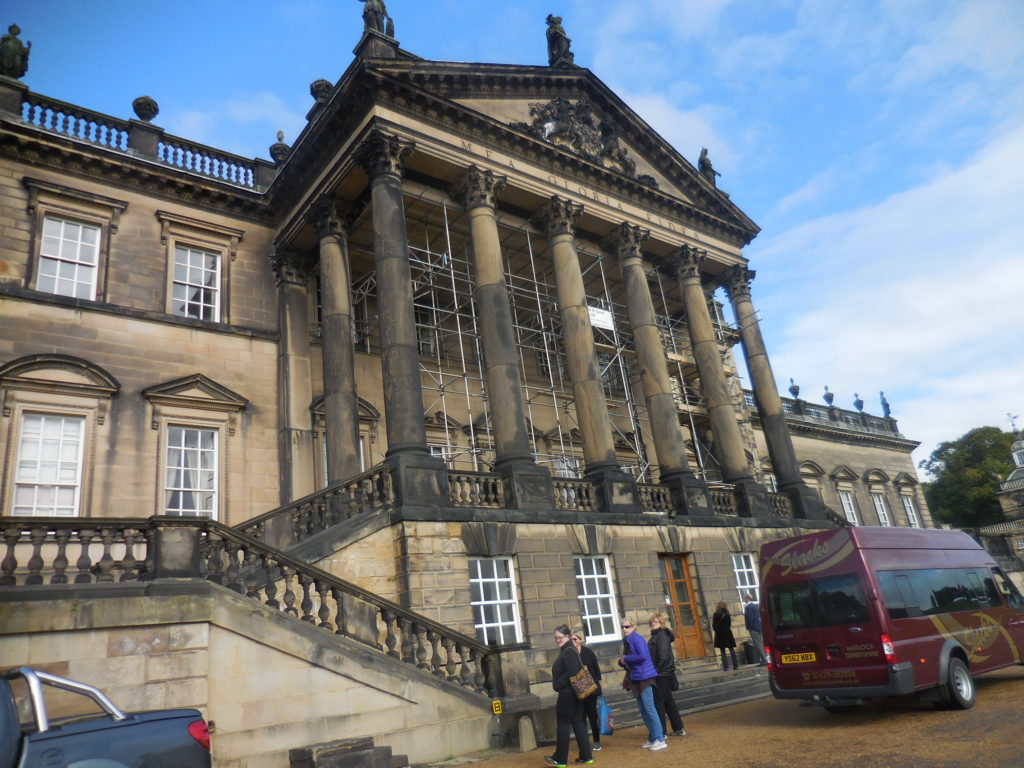 We entered on the ground level, to find a great forest of pillars, cleverly named the Pillared Hall.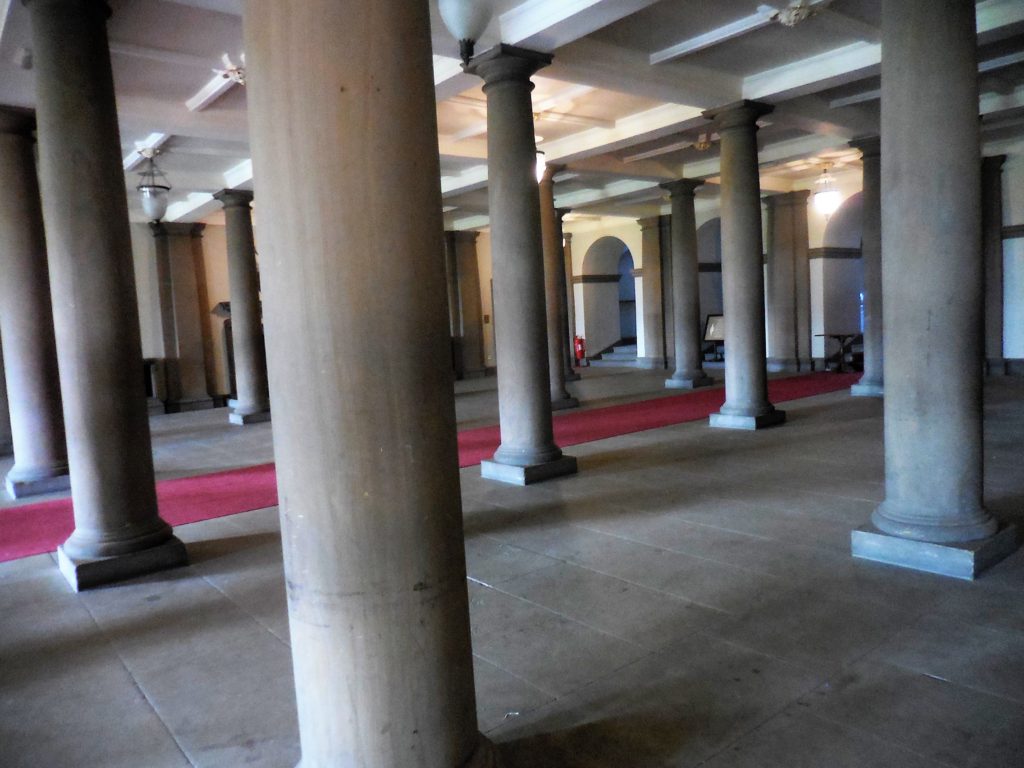 And a noble staircase leading to the Piano Nobile, that is, the State Rooms.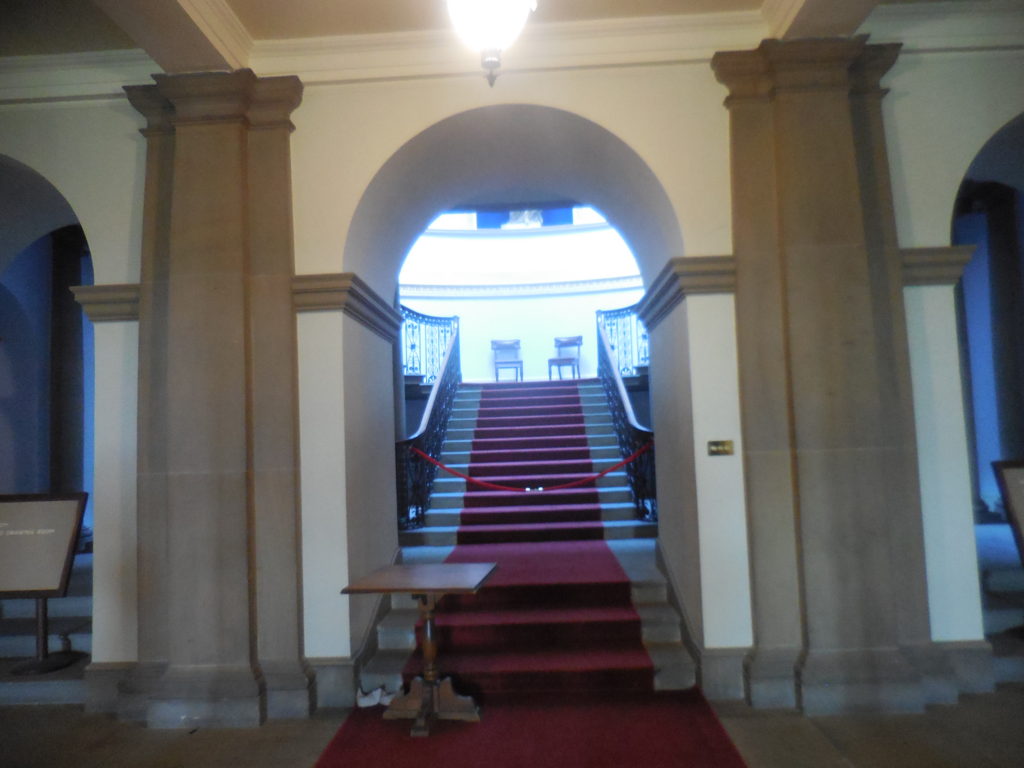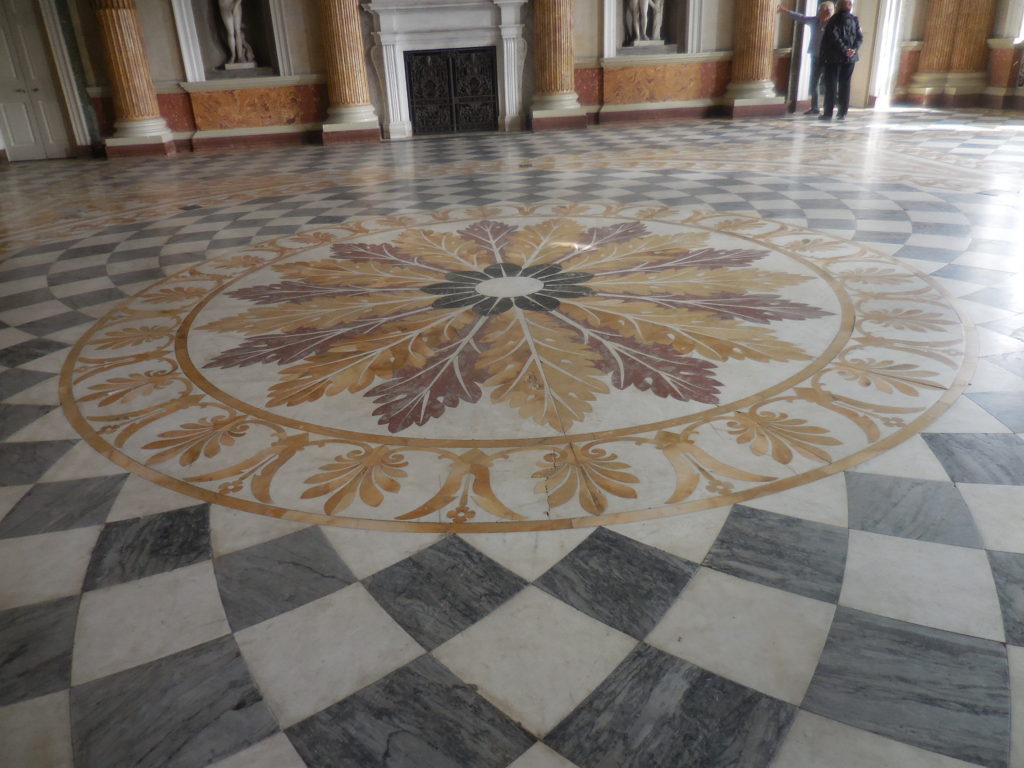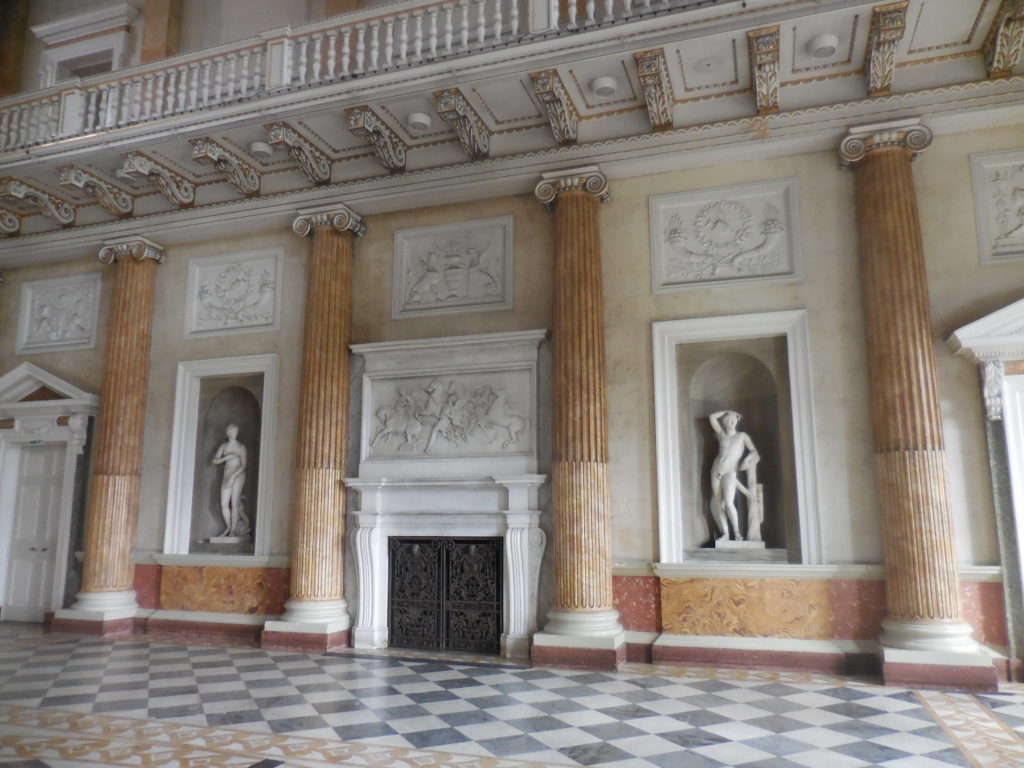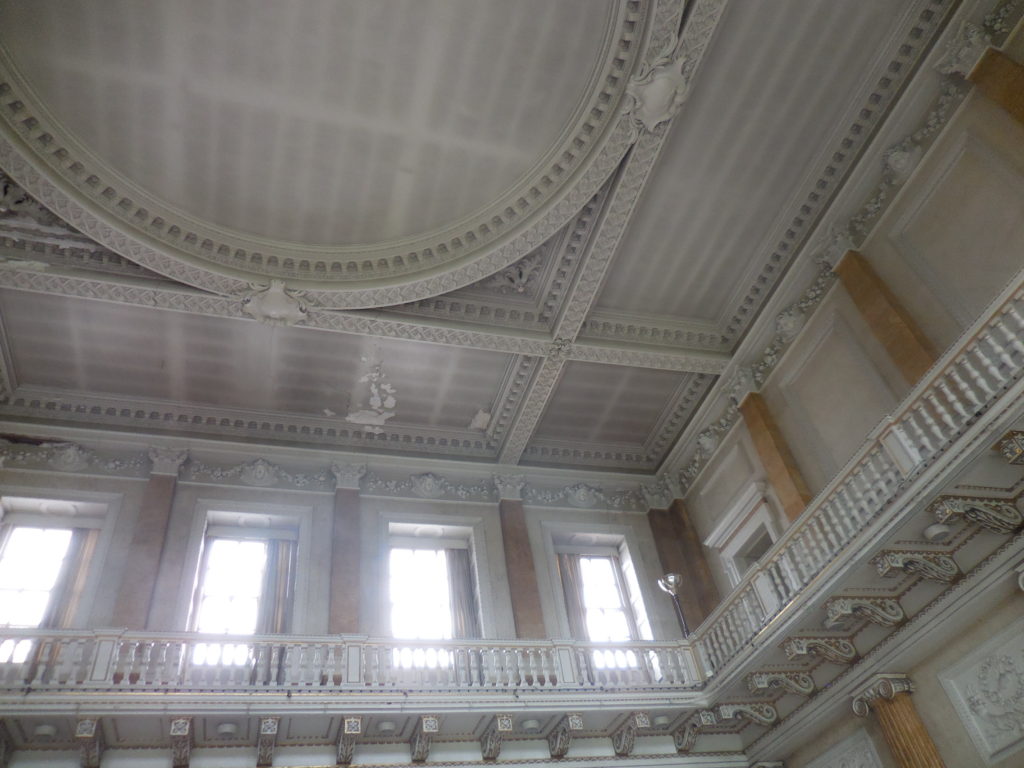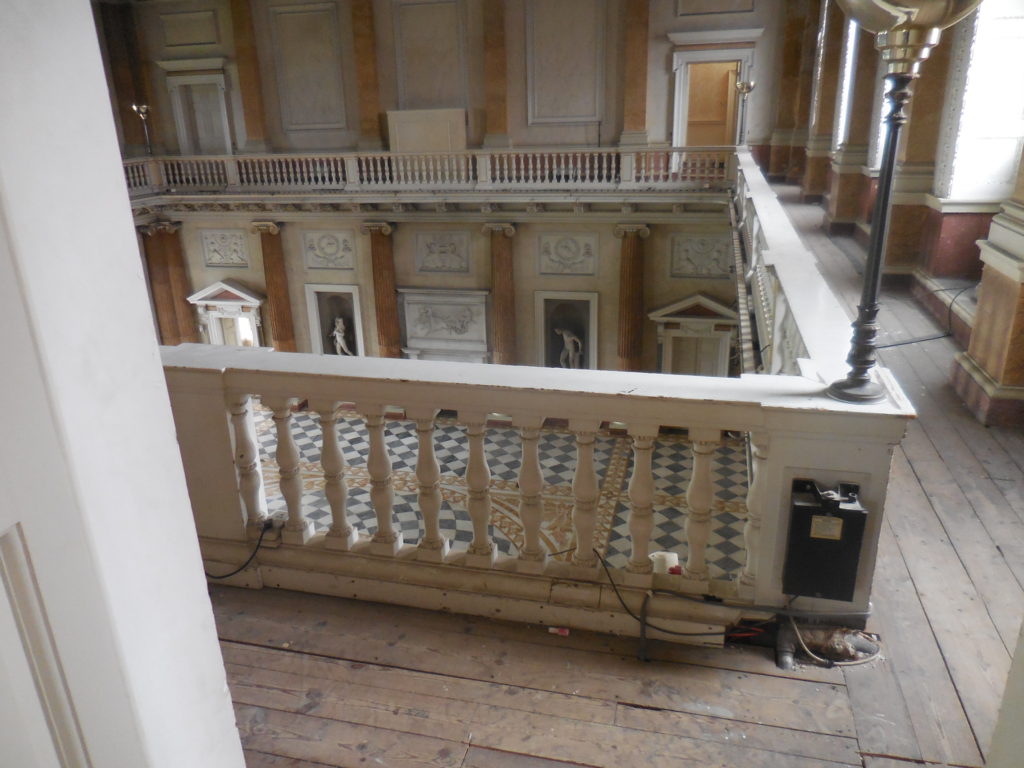 It is easy to see why there are so many pillars holding up this vast room, which was used for all sorts of gatherings, as a grand ballroom, as a gymnasium for the women's college, and it also stands in for Buckingham Palace in the film Darkest Hour.
Most of the rooms are now empty, previous furnishings sold, stored, or lost.  WW is a venue for business meetings and weddings, with the facilities able to accommodate either intimate gatherings or a virtual mob.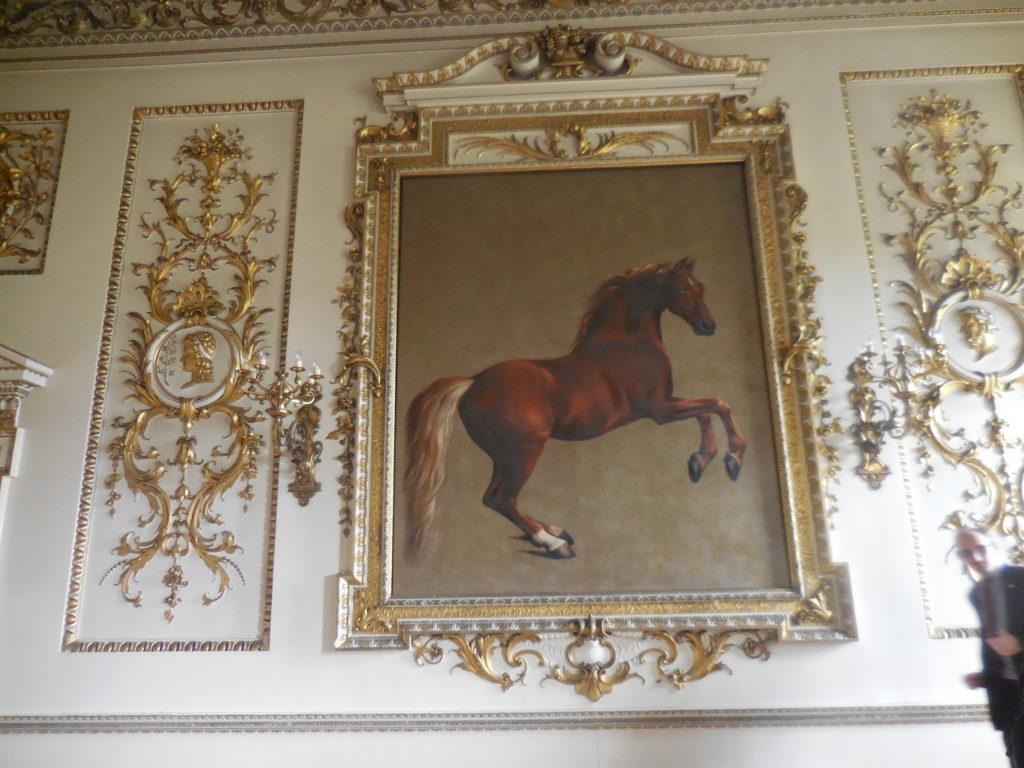 The gilded walls of this room once held the famous 1762 painting by George Stubbs of Whistlejacket, a champion racehorse owned by the 2nd Marquess of Rockingham.  Sold to partially fulfill death duties, the canvas now hangs in London's National Gallery, where I had visited at the beginning of my trip. The version at WW is a  copy.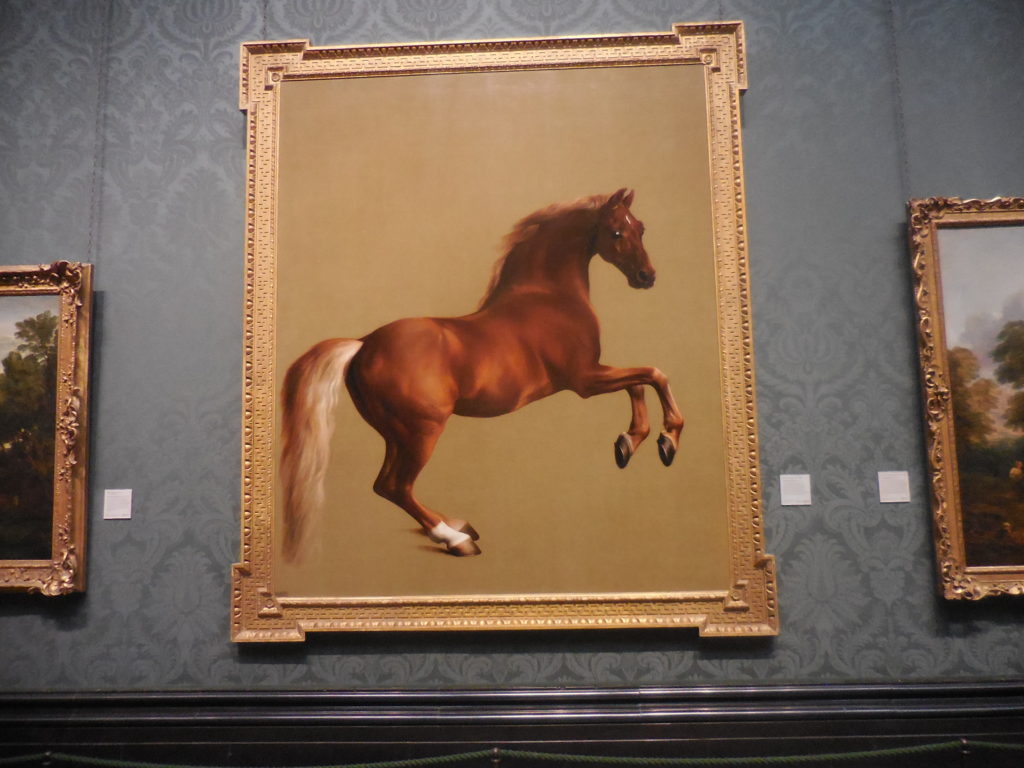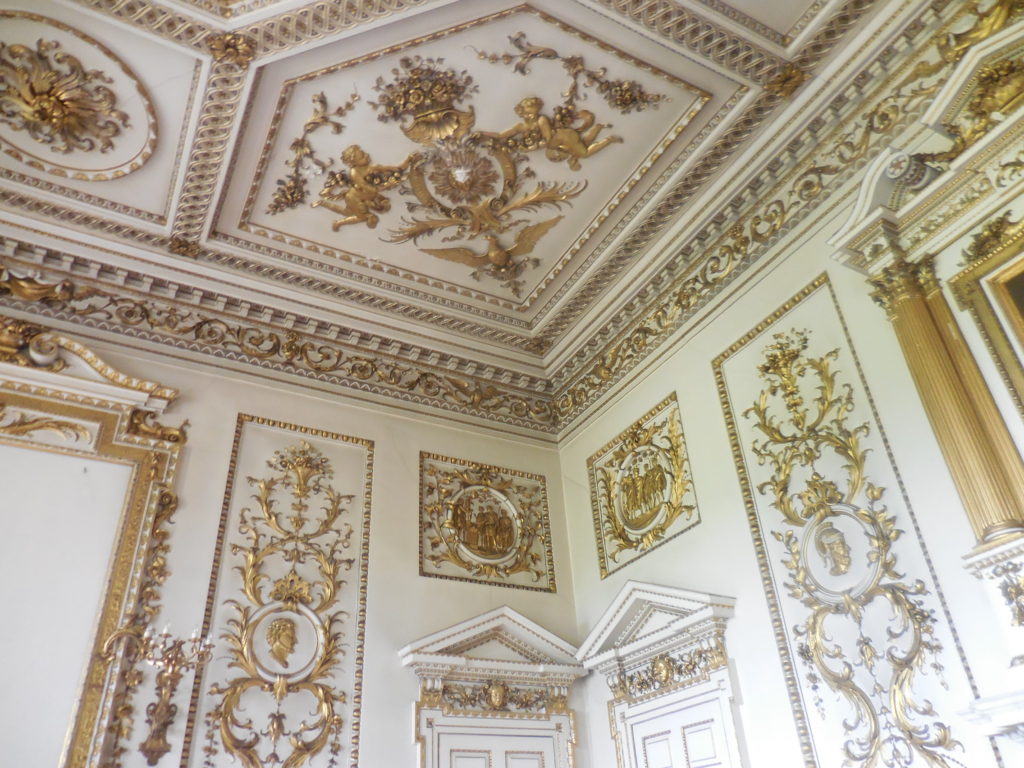 I will close with three views of the extensive gardens, which are being restored after wholesale destruction for strip mining of coal. Next time I will cover, more briefly, other houses we visited on Number One London's 2017 Country House Tour.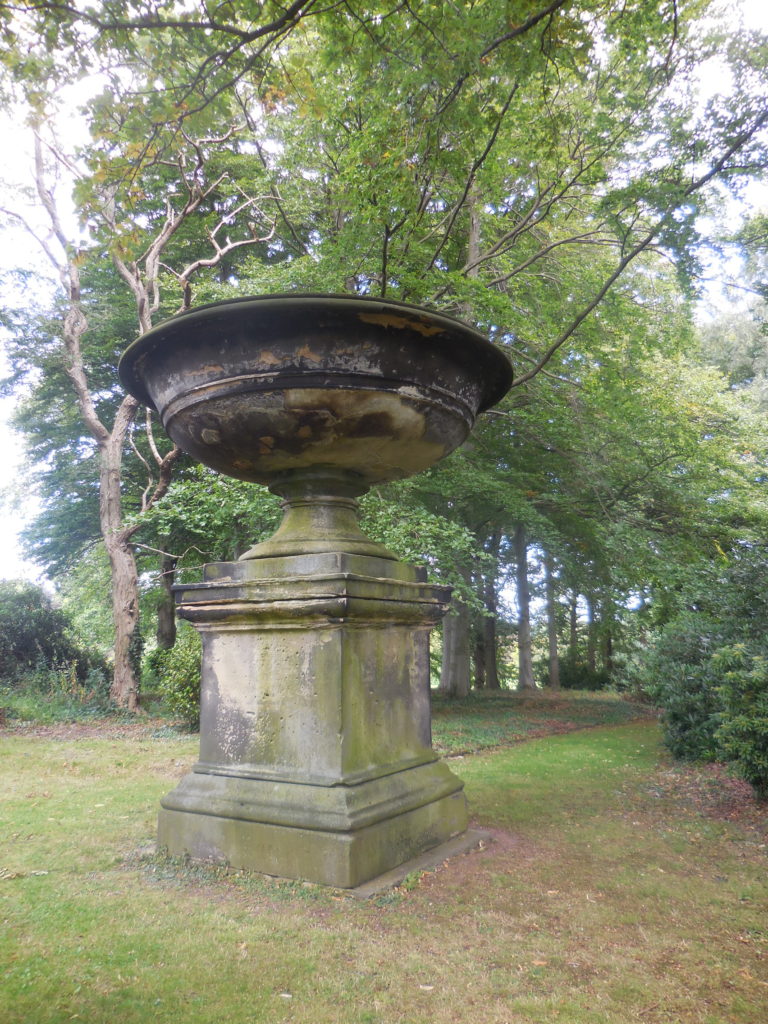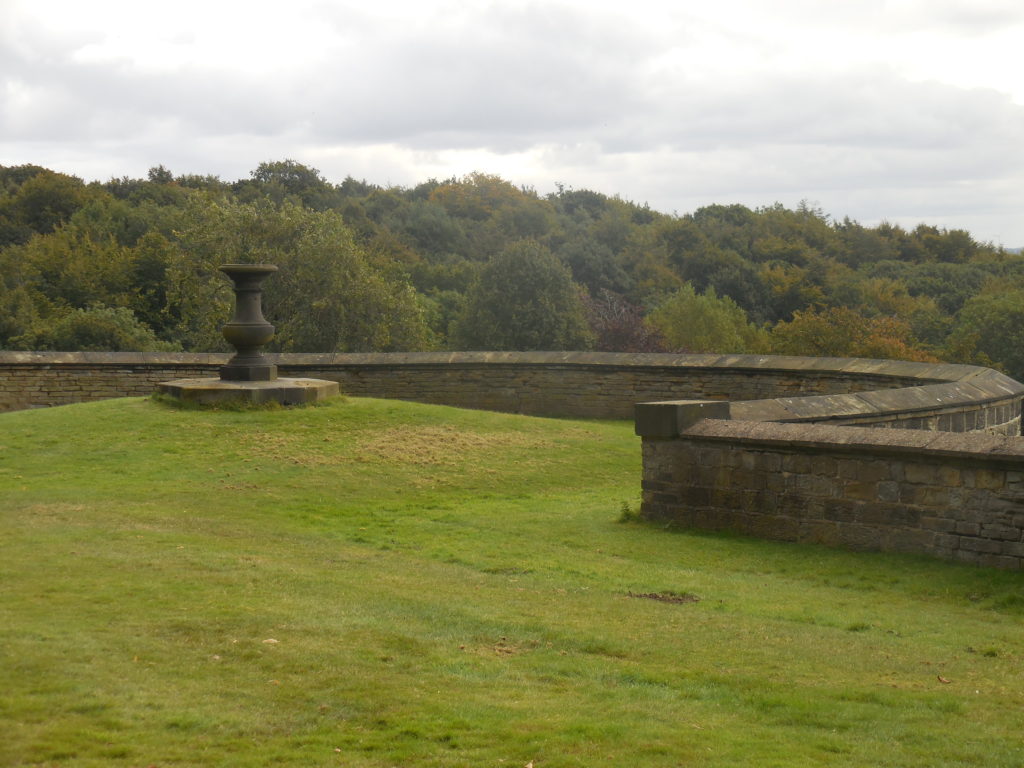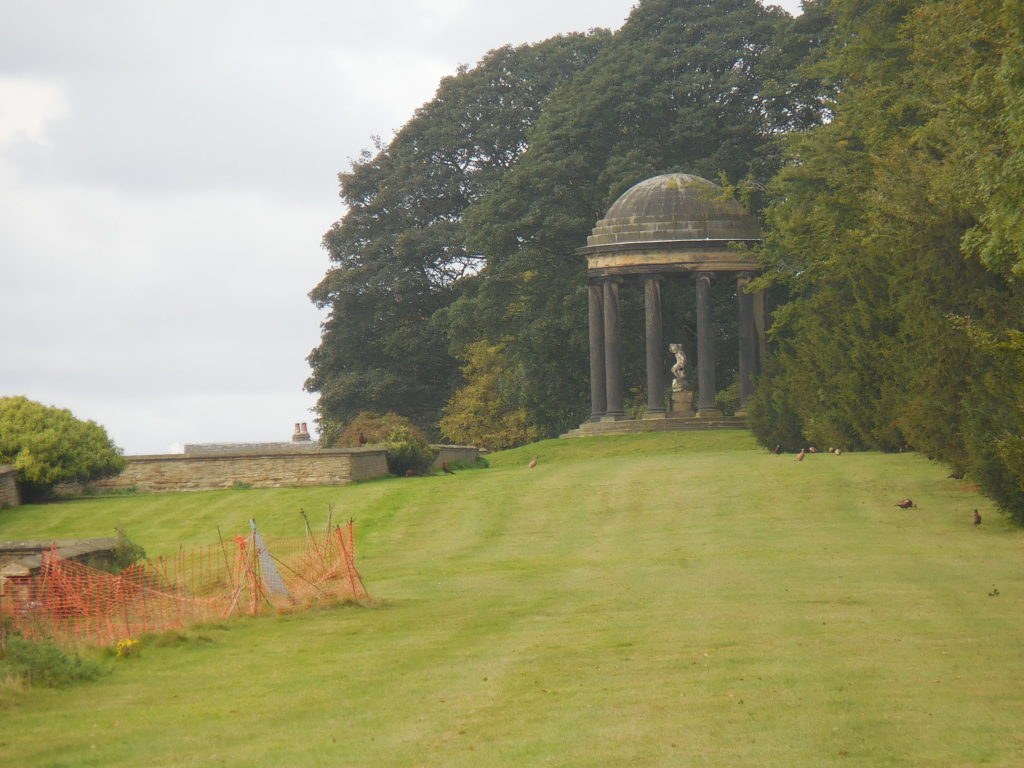 Part Two coming soon!
Find details regarding Number One London's 2019 Country House Tour here.