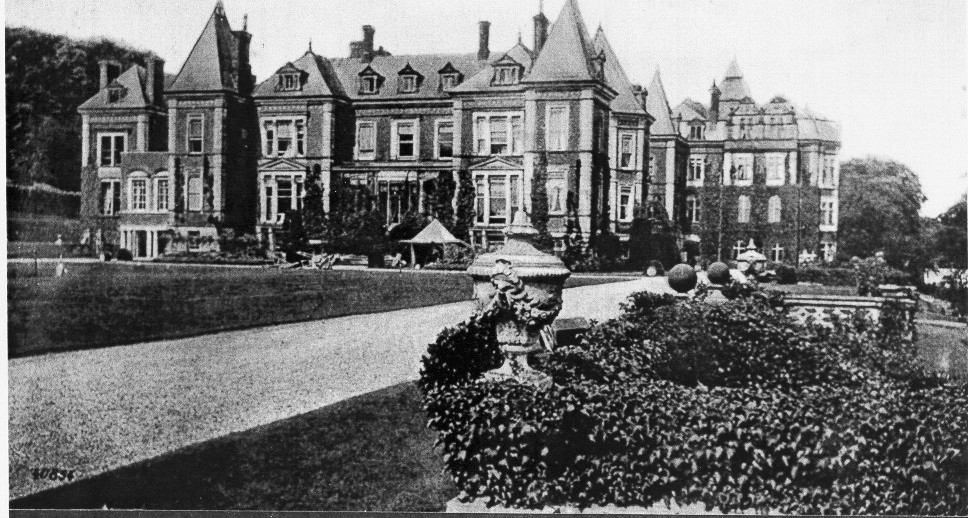 If you're a regular visitor to this blog, you'll know that I spend an inordinate amount of time researching anything and everything to do with the Duke of Wellington. Often, this research leads me down unexpected paths, as happened when I found myself stumbling upon Lady Nunburnholme and her home, Warter Hall, on the
Lost Heritage website:  
The Victorian and Edwardian owners of Warter Hall (or Priory).
The Formidable Lady Nunburnholme
"From the purchase of the Warter Estate by her husband in 1878 until its sale over 50 years later, the village of Warter and the lives of the villagers were dominated by Lady Nunburnholme.
"Born in London in 1854 Florence Jane Helen Wellesley was the eldest daughter of Colonel William Henry Charles Wellesley, a nephew of the great Duke of Wellington. She married Charles Wilson in 1871 and they lived at Cottingham, near Hull before moving to Warter Priory in 1878.
"(Local man) George Noble had many stories of Lady Nunburnholme: She was a Wellesley, the Duke of Wellington's family. Warter Priory was full of Duke of Wellington's busts and oil paintings. She used to say "I've got the blood and Mr Wilson has the money." Which he had. … By jove she was a rum un, I'll tell you that, yes, but when she was alright, she was alright, but by jove she was a goer on as we say… She liked entertaining and she was the boss, and it was no good anybody what worked there telling her off, for she would get his notice just after, you know, pack-up … she would nearly clear him off the place straightaway and pay him up… The butler used to say to me dad, and he was there a long time, and knew 'em all. "Bill", he used to say "Devil's abroad, she's on the warpath … she's playing devil with me and everybody else she's come across – if you can find another job, getaway, out of road."
"The Dowager Lady Nunburnholme died in 1932. The Warter estate had by then been sold by her grandson Charles John, 3rd Baron Nunburnholme. It was bought in 1929 by George Vestey who made Warter Priory his home until his death in 1968. Warter was then sold to the 4th Marquis of Normanby and the Guiness Trust.
"The Marquis bought Warter as a subsidiary shooting lodge and did not intend to live there as his principal family seat was at Musgrave Castle. The contents were auctioned in March 1969, the garden statuary the following September. Attempts were made to find a tenant but when one could not be found it was decided to demolish the house and a final auction of all the remaining furniture and fittings, down the last loo seat, was held in May 1972. Shortly afterwards the house was demolished, the splendid gardens bulldozed and the rubble used to fill in the nearby lake. The 5th Marquis of Normanby sold the Warter estate covering 11,910 acres (4,820 hectares) with 63 houses and cottages to a Hull-born businessman Malcolm Healey in 1998."
Meeting Lady Nunburnholme thus was pleasantly surprising, but sadly Warter Priory's fate was all too familiar. Since WWII, nearly 1,000 of Britain's stately homes have vanished, either fallen to ruin or demolished when changes in social climate and the industrial landscape combined with diminished fortunes and death duties to sound the final bell on a way of life that had become unsustainable.
As we were going to be Derbyshire, I built a stop at Sutton Scarsdale into Number One London's 2017 Country House Tour, as I wanted to show our guests the state that some of the houses were in when acquired by the National Trust or English Heritage. Sutton Scarsdale is a prime example of the condition so many important houses were allowed to fall in to after the second World War.
In 1724, Nicholas Leke, 4th Earl of Scarsdale commissioned the building of a design by architect Francis Smith, to develop a Georgian mansion with gardens, using parts of an existing structure. The estate was sold to the Arkwright family in 1824 and remained in their possession until 1919, when Major William Arkwright sold the house and grounds at auction. The estate was bought by a group of local businessmen who asset-stripped the house, with some parts of the building being shipped to the United States, where one room's oak panelling was bought by  William Randolph Hearst, who planned to use it at Hearst Castle. After many years in storage in New York City, Pall Mall films bought the panelling for use as a set in their various 1950s productions. Another set of panels are now resident in the Philadelphia Museum of Art. In 1946, the estate was bought by Sir Osbert Sitwell of Renishaw Hall, with the intention of preserving the remaining shell as a ruin. Scarsdale Hall is now in the care of English Heritage, who are in the process of restoring the structure.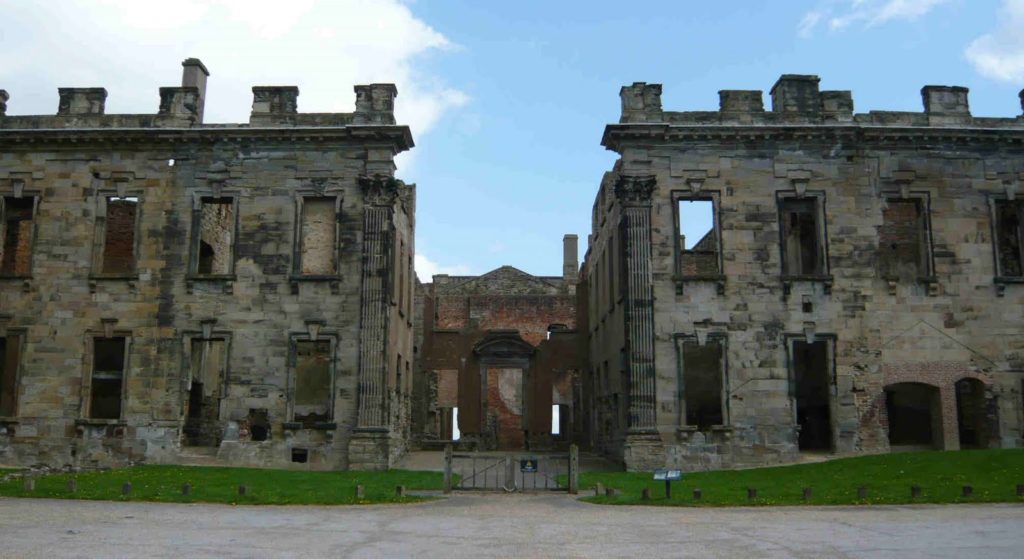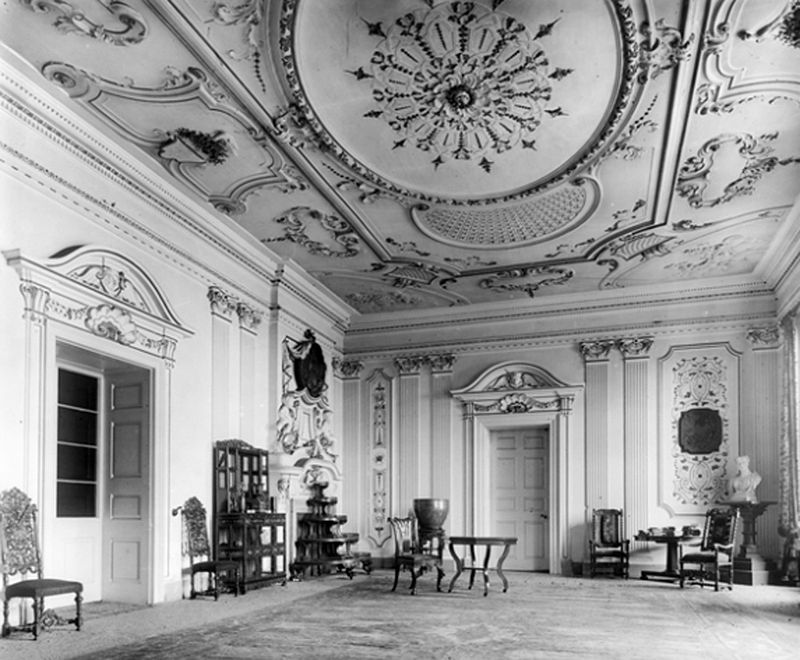 While the efforts of organizations such as English Heritage, the National Trust, the Landmark Trust and myriad local councils and organizations have helped to preserve so much historic property for us to enjoy, it remains heartbreaking to consider all the houses that have gone forever.
You can read the entire Wikipedia entry for Sutton Scarsdale here, and watch a YouTube video that captures the majesty of the property here. Do visit the Lost Heritage website at the link above and take some time to explore their extensive archives. Additionally, there's a very good Daily Mail article on vanished country houses here.