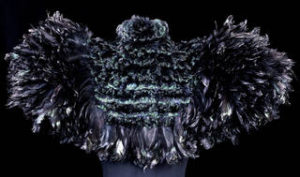 The Victoria and Albert Museum's next exhibition, Fashioned From Nature, opens on 21 April 2018 and will look to the past 400 years of fashion to explore what we can learn from fashion practice in the past, with objects dating to the early 1600s.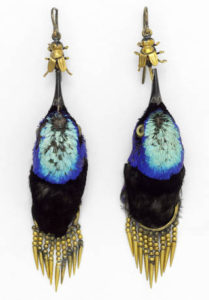 Items include an 1875 pair of earrings formed from the heads of two real creeper birds (above) – a hugely popular item sold in enormous volume at the time – and a 1860s muslin dress decorated with the iridescent green wing cases of hundreds of jewel beetles. They will be shown alongside natural history specimens to indicate the ways fashion has used animal materials in its designs and production.
The natural world has always provided rich inspiration for beautiful fashion. This will be shown in displays of exquisite garments from the historic to the contemporary. They range from a 1780s man's waistcoat, expertly embroidered with a pattern of playful Macacque monkeys, to Gucci's contemporary bag decorated with stag beetle motifs. One of the earliest pieces in the exhibition, a women's jacket from the early 1600s, is intricately embroidered with designs of pea-shoots and flowers. A 2016 Giles Deacon haute-couture dress features a pattern of delicate bird's eggs, whilst gowns from Jean Paul Gaultier (1997) and Busvine (1933-4) both feature leopard print.
The exhibition will also focus closely on the raw materials used in the production of fashion. Arranged chronologically, it will introduce the main fibres used in the 17th and 18th centuries – silk, flax, wool and cotton – as well as now controversial materials like whalebone, demonstrated by an x-ray by Nick Veasey of a pair of 1780s stays, and turtle shell, used in a fan from 1700. It goes on to chart the expansion in international trade, import of precious materials, and later introduction of man-made materials, which brought fashionable dress to the masses but also contributed to the air and water pollution to which the textile industry is such a significant contributor.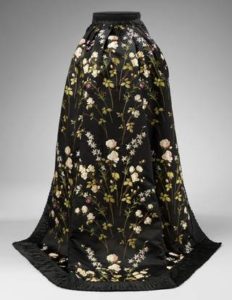 A bold display of posters, slogan clothes and artworks will show how protest movements have helped draw attention to the harmful side of fashion. Figures like Vivienne Westwood have popularised these issues and a mannequin will pay homage to an outfit worn by her whilst protesting against climate change. A man's outfit from Katharine Hamnett's 1989 'Clean Up or Die' collection will be on show alongside posters from Fashion Revolution, a collective aiming to change the way clothes are sourced, produced and consumed. Customising and re-wearing clothes will be highlighted through a vintage outfit on loan from fashion journalist and consultant Pandora Sykes and a jacket customised by London designer Katie Jones for fashion writer and editor Susie Lau to wear during Fashion Revolution Week 2015.
Fashioned From Nature runs from 21 April 2018 to 27 January 2019