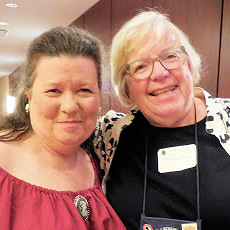 Victoria Hinshaw
Victoria has been blogging at Number One London since our very first post six years ago and loves all things British. She is a proud Jane Austen groupie and the author of fourteen novels and novellas, most of them set in Regency England, many available as e-books. She is a frequent speaker at Jane Austen Society of North America events and meetings of RWA's The Beau Monde. A graduate of Northwestern University, she holds an MA from American University, Washington, D. C. Victoria divides her time between Milwaukee, Wisconsin, and Naples, Florida – with frequent trips abroad, especially to England.
---
Louisa Cornell
Louisa was introduced to Regency romance at the tender age of nine when her father's Air Force career took the family to live in the tiny Suffolk village of Kelsale. A pair of sisters, retired librarians, insisted she read Pride and Prejudice and she has been a devoted Anglophile and Regency England fanatic ever since. She even tried her hand at writing her own historical romance. It was notoriously bad. Her mother has the only surviving copy.
A classically trained musician, Louisa's study of music began at the London College of Music and continued once she returned to the States. After four music degrees and a year of study at the Mozarteum in Salzburg, Austria, Louisa was fortunate enough to embark on a singing career in opera houses in Germany, Austria, and most of Eastern Europe.
Now retired from an active career in opera, Louisa has returned to her first love – writing Regency-set historical romance. Her novella A PERFECTLY DREADFUL CHRISTMAS (Christmas Revels,) winner of the 2015 Holt Medallion, was her publication debut.
She lives in the wilds of LA (Lower Alabama) with an ever growing library of Regency research books and a cadre of pets – including a Chihuahua so horrible he has been banned from veterinary clinics in two counties and a cat who thinks she is a Great Dane, known to terminate vermin with extreme feline prejudice.
---
Kristine Hughes Patrone
Since 1995, Kristine has been traveling to the UK in order to indulge her interest in British history. Her research trips led her to write several non-fiction books, including Everyday Life in Regency and Victorian England. For the past six years, Kristine has published a blog, Number One London, along with fellow author and anglophile Victoria Hinshaw, which focuses on all aspects of British history from the Georgian period on and where she regularly posts about her travels across the pond. Kristine began creating tour itineraries and bringing groups to England for Novel Explorations two decades ago and she hopes to continue doing so for years to come. There's nothing she likes more than introducing new friends to the wonders of England and bringing history to life.