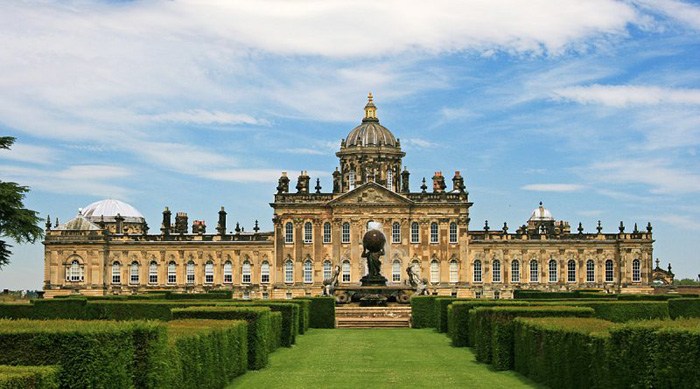 There are ten stately homes that have been designated as "The Treasure Houses of England," and three of them are included on our 2019 Country House Tour – Harewood House, Castle Howard and Chatsworth House.
Castle Howard, above, is not a true castle, but this term is also used for English country houses erected on the site of a former military castle. It may look familiar to you because it was used as the fictional "Brideshead," both in Granada Television's 1981 adaptation of Evelyn Waugh's Brideshead Revisited and a two-hour 2008 remake for cinema.
Castle Howard is unique as it grew out of an idea begun in 1699 at the legendary Kit Kat Club when the 3rd Earl of Carlisle decided to build his estate to the design of Sir John Vanburgh – who had never before undertaken an architectural design. Working with Nicholas Hawksmoor, Vanburgh designed the house, situated on the site  of the ruined Henderskelfe Castle. The project took over 100 years to complete.
The Howard family are descended from Lord William Howard, the youngest son of Thomas Howard, 4th Duke of Norfolk. George Howard, 6th Earl of Carlisle,  (17 September 1773 – 7 October 1848), styled Viscount Morpeth until 1825, served as Lord Privy Seal between 1827 and 1828 and in 1834 and was a member of Lord Grey's Whig government as Minister without Portfolio between 1830 and 1834.  Lord Carlisle married Lady Georgiana Cavendish (1783–1858), daughter of William Cavendish, 5th Duke of Devonshire and Lady Georgiana Spencer, in 1801.
You can take a tour of Castle Howard via the video below –