Guest post by author Corille Fraser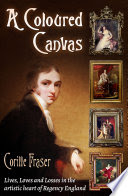 A Coloured Canvas, Lives, loves and losses in the artistic heart of Regency England
This is a novel about Sir Thomas Lawrence but, as the sub-title suggests, it is much more than a biography of the 18th/ 19th century portrait painter who was only six when he started impressing patrons at his father's Black Bear Inn by sketching their pictures. The story is full of engaging characters and is told with humour and insight into the world of Regency Bath and London in the years from the American and French Revolutions, through the Napoleonic Wars and the accession of George IV to the coming of the railway, but it touches also on some of the political events and personalities of the era.
All sorts of people stopped at the Black Bear on their way from London to Bath, among them actors including David Garrick and, perhaps, the young Sarah Siddons, as yet unknown but on her way to becoming the leading tragedienne of the period. Did he draw her likeness then? Did she recognise in the boy and herself potentials for greatness? Was that the beginning of the long and tempestuous relationship between the renowned artist and the Siddons family?
Using extensive research into letters, newspapers and comment of the time, I explored the influence his father and many close friends exerted on Lawrence's career as it developed from West country sketcher to portraitist of Kings and Queens, Popes and Emperors, Prime Ministers, distinguished ladies, diplomats and sportsmen. I singled out some of his subjects for their particularly intriguing stories. Among those are the beautiful but confused Mr Bell, the unprepossessing but clever Irish politician, Mr Curran, the irascible artist, Henry Fuseli, neither rival nor admirer. Children and their pets were particular favourites as of course were members of the Siddons/ Kemble family.
Every year from 1789 when he was twenty, his work was to be seen at the Royal Academy Exhibition. His best known studies though not always his best liked were 'Pinky', a wintry portrait of Miss Elizabeth Farren and the gigantic 'Satan' in which he blended the most imposing features of two friends: the handsome head of actor John Philip Kemble and the powerful body of champion boxer 'Gentleman' John Jackson.
The distinguished career was not without its problems. Despite his huge output and ever-increasing income, he was never out of debt and yet he was known to be far from profligate in his personal life. His family, which he supported, not unwillingly, for most of his life, was a financial burden; he spent, often unwisely, on works of art and the latest domestic innovations like a plumbed (but cold water) bath. His friends and advisers, Joseph Farington and John Julius Angerstein helped him organize his budget and kept him out of the bankruptcy court.
And throughout his life at all its stages, Sarah Siddons, her actor brothers Kemble, her husband-manager William who disliked and disapproved of Thomas, and above all her two daughters, sweet Sally and selfish Maria, contenders for his love in their different ways. An intense, difficult triangle that drove him to the brink of madness—or was it a quadrangle? Lawrence was to live out his life as a bachelor, his name, probably but not certainly, platonically linked with several women. His friendship with Sarah Siddons diminished but endured till his death at the age of 60 in 1830.
Note: A Coloured Canvas is available on both Google Books and Amazon.  Corille was born in Scotland, lives in Australia and has a background in theatre and radio. You can visit her website here.