From  A Perfectly Unforgettable Christmas
"Miss Howard has the right of it. I haven't any brothers or sisters to insult anymore. I have to make do with Redford," Lucien said with a half-smile in the butler's direction.

"I don't have any either. Brothers or sisters, I mean. And my Papa is dead so I won't ever have any."
"My condolences." Lucien bit into the biscuit. For some reason his belly had no difficulty with the gingery concoction. Perhaps Bonaparte was onto something.
"I think I should like to be your doxie," the angelic little girl declared.
Lucien choked down an entire biscuit and reached for his tea.
"Oh, dear," Redford muttered.
Oh dear?
His butler nodded repeatedly in the direction of the French windows, rather like a seizing chicken. The mysteriously opened French windows. The windows in which a horrified Lady McAlasdair now stood giving Lucien a glare of reproach so powerful as to turn him to a pillar of salt should he remain under it for long. Lucien lurched to his feet. A lightning bolt of pain shot up his leg. He grasped the mantel to keep his feet.
"Lady McAlasdair." He executed a shallow bow. "Would you care for some tea?"
"I should like to know, Lord Debenwood, precisely what you have been telling my daughter." Never had he seen a lady lovelier. Or more deadly.
"I asked Lord Debenwood what a doxie is and he told me, Mama." Miss Lily dragged her cloak-clad mother to the footstool and indicated she should sit. To his astonishment, she did. Then again, the child had managed to persuade him to take tea with her, a doll, and a dog.
"And what made you ask his lordship such a question?" She stroked her daughter's hair and all the while accused Lucien with her eyes.
"You and Miss Howard wouldn't tell me. I came over here to thank Lord Debenwood for my gift and to bring him some of Mrs. McGillicutty's biscuits. He said I could ask him anything." She sent Lucien a dazzling smile. He hated to think of the men of London once she reached her mother's age. They didn't stand a chance.
"Oh, he did, did he?"
For a man who had given up on feeling anything years ago, Lucien found himself aroused and indignant at the same time. She raised an eyebrow. A dare if ever he saw one.
"I made the offer after she plied me with biscuits and had already asked me every question imaginable. I didn't see the harm in one more." He offered a Gaelic shrug, only because he suspected it might annoy her. It did.
"One more? Biscuit or question?" She spied the child's coat and hat on the blanket chest at the foot of the bed and fairly shot up from the footstool to fetch them.
"Both."
"Why on earth would you answer such a question?" She wrestled her daughter into the coat and settled the wool hat on her head.
His leg tortured him mercilessly. Only yesterday he'd have sat down throughout her visit and damned all gentleman's manners and intruding neighbors to perdition. He wasn't exactly certain what made him remain standing now. "I was endeavoring to be honest and truthful with the child." He grinned in spite of the scolding scowl on Redford's face.
She stopped fastening her daughter's coat and slowly crossed the room to stand close enough to shake the snow off her cloak onto his bare feet. "You are endeavoring to be a horse's arse. And succeeding. Admirably," she muttered huskily between clenched teeth.
The rough timbre of her voice scraped across his skin with a pleasurable sort of pain. The pain brought about when coming from someplace very cold into someplace warmer than he'd ever imagined.
"Quite," Redford affirmed quietly.
"Stow 'em, Redford."
"Yes, my lord."
"I don't understand, Mama. Don't you want me to be a doxie?" Seated on the blanket chest, Miss Lily stroked Bonaparte's head. "I think it would be very nice."
Redford began to clear the tea table. Lucien couldn't be certain, but he thought he heard the man mumble, "Stop talking." Good advice. Too bad he'd never been very adept at taking the advice of others.
"What exactly did you tell my daughter?" Lady McAlasdair demanded.
"He said doxies are women who are paid to be nice to men who are lonely," Lily offered before he could answer. "Some men aren't good at making friends so they have to pay them. I think Lord Debenwood is lonely. That's why he is so angry all the time. I should like to be his doxie, but he wouldn't have to pay me. He's already given me Miss Debenwood, and he lets me have Bonaparte during the day. I could be his doxie as a trade."
Every time the child said doxie, Lady McAlasdair's color deepened from pink, to pinker, to pinker still. Lucien wondered if the color was the same all over her body. He raised an eyebrow exactly as she had done. He'd put on a pair of buckskins under his dressing gown for the sake of his little female visitor. Lucien crossed his arms over his chest to draw the mother's gaze to the vee of naked flesh where the garment gapped open.
"I am going to kill you later," she promised.
"I look forward to it."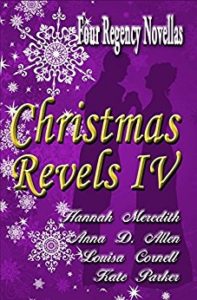 The Sergeant's Christmas Bride – Sergeant Jacob Burrows just wants a place to bed down for the night. He never expects to be confronted by a lady with a gun. Elizabeth FitzWalter intends to drive the stranger off her land, until she realizes he meets her most pressing need.
Home for Christmas – When Charity Fletcher receives a mysterious bequest—a house by the sea—she hopes to rebuild her life. Lord Gilbert Narron leases a seaside house to hide from his memories of war. Charity's refuge is Gil's bolt-hole… but what both are seeking is a home for their hearts.
A Memorable Christmas Season –The last thing Lady Roekirk expects at her Christmas party is a dead traitor in her parlor… or the Crown's Spymaster helping her hide the body. Thirty years earlier, she'd been forced to wed another and Lord Keyminster became a spy. After this long, does their love stand a chance?
A Perfectly Unforgettable Christmas – Every day, Lucien Rollinsby endures a memory of Christmas Eve. Not even his lovely new neighbor can make him forget that horrible night five years ago. Caroline McAlasdair remembers that Christmas Eve, too. But if Lucien recalls her presence there, it will destroy their only chance at happiness forever.
Buy Links:   Amazon – http://a.co/4ogrKbC
Apple iBooks – https://itunes.apple.com/us/book/christmas-revels-ii-four-regency/id1047951334?mt=11
Barns and Nobles – https://www.barnesandnoble.com/w/christmas-revels-ii-hannah-meredith/1122771468?ean=9781942470007
Kobo – https://store.kobobooks.com/en-us/ebook/christmas-revels-ii-four-regency-novellas
Print – https://www.createspace.com/5739761
Authors' Biographies:
Hannah Meredith is, above all, a storyteller. She's long been fascinated by the dreams that haunt the human heart and has an abiding interest in English history. This combination led her to write historical romance. Hannah is a member of RWA, the Heart of Carolina Romance Writers, and SFWA.
Anna D. Allen lives deep in the woods with too many books and not enough dogs. She holds a Bachelor of Science and a Master of Arts in Language and Literature. Her future plans include growing tomatoes and cleaning out the freezer. When not writing or reading, she can be found in the kitchen.
Kate Parker grew up reading her mother's collection of mystery books by Christie, Sayers, and others. Now she can't write a story without someone being murdered, and everyday items are studied for their lethal potential. It's taken her years to convince her husband that she hasn't poisoned dinner; that funny taste is because she just can't cook.
Louisa Cornell is a retired opera singer living in LA (Lower Alabama) who cannot remember a time she wasn't writing or telling stories. Anglophile, student of Regency England, historical romance writer— she escaped Walmart to write historical romance and hasn't looked back. She is a member of RWA, Southern Magic RWA, and the Beau Monde Chapter of RWA.
Social Media Links:
Hannah – http://www.hannahmeredith.com
https://www.facebook.com/HannahMeredithAuthor
Anna – http://beket1.wix.com/annadallen
https://www.facebook.com/pages/Anna-D-Allen/366546213501993
Kate – http://www.KateParkerbooks.com
https://www.facebook.com/Author.Kate.Parker/
Louisa – http://onelondonone.blogspot.com/
https://twitter.com/LouisaCornell
https://www.facebook.com/RegencyWriterLouisaCornell
https://www.facebook.com/louisa.cornell
https://www.pinterest.com/louisacornell/